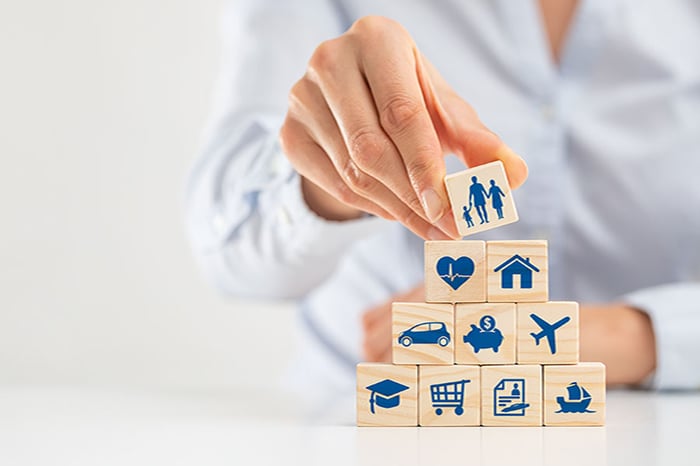 An insurance broker helps businesses and individuals navigate the complex world of insurance and the numerous options available to them. They work with consumers to research insurance policy terms, conditions, pricing, and coverage to determine which policies will meet their needs. Insurance brokers also solicit and negotiate insurance pricing with multiple insurance agencies to help their clients get the best coverage possible at the best price possible. In the content below, we differentiate an insurance agent from a broker, explore the types of insurance offered by a broker, and discuss benefits of working with an insurance broker.
What's the Difference Between an Insurance Agent and an Insurance Broker?
Insurance agents and insurance brokers serve a similar purpose — to help businesses and individuals secure insurance coverage to meet their specific needs. They both act as intermediaries between the consumer and insurance agency to obtain a policy for the consumer at a fair price. Insurance agents and brokers typically receive commissions from the insurer for sold policies. Both must have a license to operate and are regulated by the states in which they are licensed.
One difference between an insurance agent and an insurance broker is how policies are initiated. Agents can bind policies, while insurance brokers need an insurance binder signed by an insurer's underwriter. Another key difference between an agent and a broker is whom they represent. Insurance agents represent insurance agencies or insurers, and insurance brokers represent their clients.
Insurance Agents
Agents work for or on behalf of the insurance companies they represent. Agents can be captive agents or independent agents. A captive agent represents one insurer, such as an insurance agent who sells insurance for State Farm or Progressive. An independent agent represents several insurers at the same time.
Insurers provide insurance agents with an appointment. An appointment is a contract that indicates the specific products the agent can sell from the insurer and the commission they will be paid for each sale. Insurance agents can bind, or initiate, a policy, while an insurance broker cannot.
Insurance Brokers
Insurance brokers are typically employed by a brokerage firm, working on behalf of their clients to secure insurance coverage. Brokers complete insurance applications for their clients to provide to various insurers. They then request policies and quotes from those insurers to present to their clients.
An insurance broker does not have the authority to bind, or initiate, coverage for the client. Nor do they receive appointments from an insurer. To initiate a policy, an insurance broker must get an insurance binder signed by the insurer's underwriter. An insurance binder is a temporary policy that is typically replaced with a permanent policy within 30 to 90 days after the binder is initiated.
What Types of Insurance Do Insurance Brokers Offer?
Some insurance brokers specialize in a specific type of insurance, whereas others serve as generalists offering many different types of insurance. Brokers who support clients in securing coverage for personal needs might specialize in or offer:
Homeowner's insurance
Medical insurance
Life insurance
Flood insurance
Auto insurance
Insurance brokers who support business clients might specialize in:
Employee benefits (such as medical insurance and life insurance)
Workers' compensation insurance
General liability insurance
Commercial auto insurance
Business interruption insurance
Errors and omissions insurance
Property insurance
What Are the Advantages of Working with an Insurance Broker?
Researching and buying insurance for any reason takes time and can come with a lot of undue stress. After all, you want to rest assured that you're purchasing the best insurance policy at the best price available to you. You also want to ensure that the policy you secure will indeed mitigate the risk for which you're purchasing the policy in the first place or provide the best possible benefits to your employees.
Having a reputable and knowledgeable insurance broker by your side can be invaluable as you navigate purchasing insurance. Below, we discuss the advantages of working with an insurance broker.
You're Not in It Alone
Simply knowing that you have a partner in your quest to purchase insurance can take a lot of stress off of your shoulders. An insurance broker will guide you through the process and do most of the heavy lifting for you until you're ready to sign on the dotted line.
You're Saving Time and Money
Given that insurance is a broker's area of expertise, working with an insurance broker saves you the time and money you would spend if you had to do your own research to identify the insurance policies available to you. A broker will also outline the details you need to know about each policy, so you don't have to worry about missing something when reading through the numerous aspects of a policy.
Your Interests Come First
Whereas insurance agents work for the companies they represent, an insurance broker works for you, so you can trust that your interests come first. Brokers often receive a commission whenever a client renews a policy, so it's also to a broker's advantage to ensure that you have both the best coverage for your needs and the best customer service for repeat business.
The Selection Process Is Simplified
There are several insurance options available, and insurance policies come with a lot of provisions, exclusions, and fine print. A reputable brokerage firm backed by years of experience will be able to walk you through a thorough needs and risk assessment. From there, they'll do the shopping for you to identify insurance policies to meet your needs and budget while educating you about the limits and exclusions of each policy. This support simplifies the selection process for you.
You're Covered if You Need It
An insurance broker will help you secure a comprehensive insurance plan based on risk assessments and their knowledge of the industry. As a result, you can ensure that you have the right coverage level based on potential liabilities and concerns.
You're Offering Competitive Employee Benefits
Employee benefits are one of the essential components of an employer's employee value proposition. Offering employee benefits factors into a company's job satisfaction, employee morale, and hiring and retention statistics. When you work with a benefits broker who can offer insights and research around the health and welfare benefits available for your business, you'll be able to make an informed decision to best support the employees who keep your business going.
You're Meeting Legal Requirements
Whether you're purchasing personal or business insurance, local, state, and federal legal requirements often need to be met. An insurance broker will be able to educate you on what those legal requirements are for your area and ensure that you purchase policies that meet those requirements. Doing so obviates the hefty fines and penalties that result from breaking the law.
You'll Receive Competitive Pricing
Insurance companies appreciate that brokers help their clients acquire the coverage that best addresses their risks and needs. As a result, clients who use brokers have a lower rate of unnecessary claims, saving the insurance company time and money. Knowing this, insurers generally offer special brokerage rates, which means brokerage firms often receive better insurance rates than businesses or individuals do when purchasing insurance policies. Those savings are then passed on to you, the client. Further, brokers work with many insurers, so they are able to offer options to clients to fit a variety of budgets.
You'll Have a Partner for the Long-Term
When you work with an insurance broker, you'll be forging a long-term partnership. After working with an insurance broker you're satisfied with, that broker will know your business and be in a position to assess future needs when they arise more quickly. They'll also be able to work with you when your needs shift and let you know when you should consider changing or revising current insurance policies.
KBI Benefits Brokerage Firm Is Here to Serve Your Business Needs
There are several insurance considerations for businesses. Business leaders must think about the health and welfare of both the company and its employees. Aside from insurance coverage to protect the business against liability or loss, employers also have the added responsibility of selecting insurance to support their employees. Employee health insurance, life insurance, disability insurance, and workers' compensation insurance are just a few of the insurance options that businesses evaluate as part of their employment benefits package.
At KBI, we understand how daunting purchasing insurance can be for businesses. KBI's team of experts can ensure that you choose the best policies to meet your business' needs and budget, support your employees' welfare, and meet legal obligations. Our attention to detail, coupled with our focus on customer service, provides us with the tools necessary to guide our clients from start to finish. We will work with you and take the guessing game out of your insurance search now and in the future.
If you are ready to explore the travel insurance plans we offer, contact us today by submitting our online contact form or calling us at 408.366.8880. We look forward to working with you!
By Chris Freitas