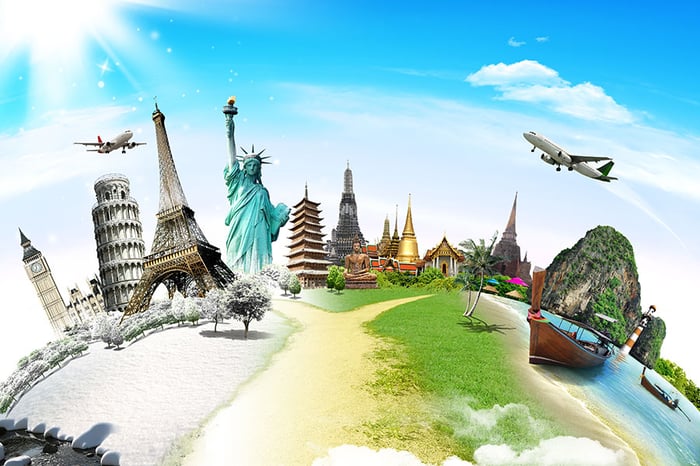 Travel insurance protects individuals and businesses against loss that occurs while traveling. Travel insurance mitigates losses caused by missed flights, natural disasters, acts of terrorism, personal injury or sickness while abroad, lost or stolen personal items and baggage, and unforeseen personal events that prevent traveling. While some might consider travel insurance unnecessary, for many, it provides peace of mind. With the right level of protection, travel insurance allows individuals to focus on the purpose of their trip, whether for business or personal reasons, without wondering what might happen if they find themselves in an emergency situation.
Who Needs Travel Insurance?
Not everyone who travels needs travel insurance. If you're located in the United States and are traveling domestically between states, for example, you might not need travel insurance. Travel insurance is most often purchased by individuals who are traveling internationally or taking high-cost vacations or business trips. People who should consider travel insurance include any of the following:
Individuals who cannot afford to lose the money invested in their trip
Those whose medical insurance does not cover injury or illness while traveling abroad
Those concerned about paying for unexpected travel expenses incurred if a trip is cut short or requires emergency travel
Individuals who do not have travel insurance bundled into other general insurance options, such as travel insurance that comes with a major credit card
Businesses with employees who travel on domestic or international business
Travel insurance can also provide worldwide travel assistance, which is especially beneficial for those who don't understand the language(s) spoken at their destination. Travel assistance provides 24-hour services to help with language translations, transportation challenges, and more. You can also purchase travel services that come with downloadable applications; these will direct you to doctors and resources that utilize your native language.
When Does Travel Insurance Apply to Businesses?
When business operations require employees to travel domestically and internationally, a comprehensive travel insurance policy is a wise investment. It's relatively inexpensive and protects both the business and the employees from unforeseen losses that can occur when travel plans are impacted. Companies are also responsible for taking care of their employees, and travel insurance provides protection if employees are injured or become ill while traveling for work. Offering travel insurance shows your employees that you value them and care about their well-being. Organizations can purchase a policy that covers their employees, or employees can purchase company-suggested travel insurance and then be reimbursed by the company for the expense.
What Are the Different Types of Travel Insurance?
There are different types of travel insurance that provide travel support and cover or help mitigate losses, including trip cancellation, medical, baggage loss, life, and evacuation insurance. Regardless of the type of travel insurance you're considering, you should review all of your current primary insurance policies to determine what additional primary, secondary, or supplemental insurance might be necessary.
Trip Cancellation Insurance and Trip Interruption Insurance
Trip cancellation or interruption insurance protects you against loss if the traveler is no longer able to travel or a trip must be cut short. There are specific, policy-dependent conditions that must be met for reimbursement eligibility. Trip cancellation insurance can provide coverage if you or a travel companion cannot travel due to a medical emergency, a missed or canceled flight, a natural disaster, or the sudden bankruptcy of your travel agency or tour guide.
If a travel agency or tour provider defaults or files for bankruptcy and you purchase a travel policy through them, you likely won't be covered under their policy. As such, it's a good idea to purchase travel insurance through an independent party rather than through your tour provider or travel agency. You should also consider the overall cost of travel when deciding the level of protection to purchase. It doesn't make sense to purchase a plan that will only reimburse you for a fraction of your trip cost if something were to happen.
Travel Medical Insurance
International travel medical insurance helps cover costs incurred due to a medical emergency or illness while traveling. In most instances, it's not required for U.S. domestic travel, as most domestic medical insurance policies cover individuals as long they're located in the U.S. Exceptions are state-specific plans purchased through Marketplace. Medicare and Medicaid also provide spotty interstate coverage and little to no international coverage. For travel to high-risk countries, you might need to purchase supplemental insurance, even if your primary medical insurance policy covers international travel.
Personal Item and Baggage Loss
Baggage loss coverage provides protection against damaged, lost, or stolen luggage or personal items during flights. Coverage generally extends to the entire trip and can also cover the expedited replacement of a lost or stolen passport.
Life Insurance
Life insurance for travel provides benefits when death or dismemberment occurs while traveling. Accidental death insurance covers the entire trip, common carrier life insurance covers public transportation, and air flight accident insurance solely covers flights. Additional insurance might be purchased to cover the cost of repatriation of remains if the unfortunate event of death occurs.
Evacuation Insurance
Evacuation insurance covers the cost of transportation to a safe location when necessary, such as during acts of terrorism. It can also cover transportation to a location for proper medical care during a medical emergency. Medical evacuation might also be covered under a travel medical insurance policy.
What's NOT Covered with Travel Insurance?
Unless you purchase a "cancel for any reason" travel insurance policy, your trip cancellation policy will have specific qualifying reasons for which you can be reimbursed when canceling a trip. Many policies cover illness or injury, natural disasters that interrupt travel plans, and job loss.
Each type of insurance policy will come with nuances as to what is or is not covered. If you purchase your trip cancellation insurance after a natural disaster has been named, for example, the policy might not cover that particular natural disaster. Evacuation insurance might cover your evacuation for a medical emergency, but it might not allow you to choose the hospital where you are treated. Always read the fine print before signing on the dotted line for any travel insurance policy. If you're concerned about something specific not being covered, be sure to ask the insurance carrier whether or not it is. The last thing anyone wants is to end up with unfortunate surprises down the road.
Does My Existing Health Insurance Plan Already Cover This?
To determine if you need travel insurance, look at all of the insurance policies that you currently have. Some medical insurance policies cover medical emergencies and illnesses during international travel, while others do not. You might find that your primary insurance covers certain types of medical expenses overseas, and a secondary or supplemental policy will help cover anything your primary plan does not. Also, you might need to purchase additional insurance to cover pre-existing conditions while traveling.
Does My Existing Homeowners or Rental Insurance Policy Already Cover This?
Certain homeowners and rental insurance policies cover baggage loss and loss of personal items while traveling. However, the coverage might be limited to a small percentage of the total value of the items lost. In such instances, you might still choose to purchase supplemental travel insurance to cover the full cost to replace personal items, especially if they are high-value items such as laptop computers and high-end camcorders.
What Do Credit Cards Offer for Travel Perks?
Many credit cards offer domestic and international travel perks that include certain types of travel insurance at no additional cost. Baggage loss, international accidental death and dismemberment, and medical travel insurance are examples of insurance coverage offered by some issuing banks. Depending on the reimbursement limits provided by your creditor, you might choose to purchase additional coverage.
Is Travel Insurance Worth It?
Unless you're not concerned about the risk associated with losing funds invested in traveling or whether you will be able to afford any unexpected travel expenses or medical concerns, travel insurance is worth the investment. In addition to removing much of the financial risk from the individual or business, the relatively low up-front cost of travel insurance means individuals and employees can travel and enjoy their time knowing that they won't be left stranded or alone in an unknown land. In the event of an emergency that requires them to seek medical assistance, cut their trip short, or be evacuated, they'll have the financial and physical support required to remain safe and healthy.
KBI Benefits' team of insurance experts can help you and your organization assess the best comprehensive or supplemental travel insurance policy to meet your needs. With the numerous options available, it's possible to tailor a plan to support your domestic and international travel needs on an individual, case-by-case, or company-wide basis.
If you are ready to explore the travel insurance plans we offer, contact us today by submitting our
online contact form
or calling us at 408.366.8880. We look forward to working with you!
By Chris Freitas