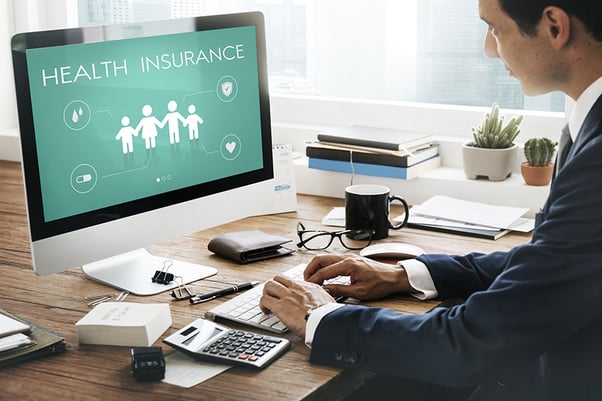 Group health insurance differs from individual health insurance. Individual health insurance is when an individual purchases health insurance for himself or herself and possibly dependents. Group health insurance is health insurance offered by employers to their employees.
One of the first considerations for candidates when evaluating job prospects is the company's employee benefits. Medical expenses can be costly, and employees want to know that they and their families will be taken care of if medical needs arise. Many employees would even consider a job with lower pay for a job with better health benefits, as 88% of the respondents in a 2,000-person study by research firm Fractl indicated. Offering healthcare benefits is essential for employers to attract, hire, and retain top talent.
An employee's cost to pay for a group health insurance plan is typically much less than purchasing an individual plan. Compared to individual plans, group health insurance plans generally don't have as many restrictions for coverage, depending on the type of group policy offered. They also often come with additional benefits that individual policies do not, such as lower deductibles. Businesses typically offer a group health insurance plan that covers all eligible employees and their dependents. An employer might opt to offer more than one plan option or level to employees. An employee's portion of the premium is adjusted according to the plan level selected.
Is There a Difference Between Small Group Coverage and Large Group Coverage?
Small businesses qualify for traditional small group health insurance in most states if they have between one and 50 employees. Small group health coverage can be purchased through a health benefits broker, such as KBI, or the state-run Small Business Health Options Program (SHOP) marketplace.
Employers with more than 50 employees automatically qualify for group health plans and must apply for traditional large group coverage. Coverage is typically purchased through a benefits broker.
What Types of Group Health Plans Exist?
There are numerous group health plan options businesses can choose from when developing their benefits platform. Some of the plan types include:
Fully Insured Plans
Self-Funded Plans
Health Maintenance Organizations (HMOs)
Preferred Provider Organizations (PPOs)
Exclusive Provider Organizations (EPOs)
High-Deductible Health Plan (HDHP)
Fully Insured Plans
Fully insured plans are the most traditional group health insurance options. The insurance company takes on the risk incurred with healthcare utilization and costs and charges the business an annual premium for the benefits plan offered. Most employers share the cost of the employer premiums with employees enrolled in the group health plan.
Self-Funded Plans
As the name implies, self-funded insurance plans are plans funded by the business. Self-funded plans can be risky due to the possibility of unexpected high-payout and catastrophic claims from the group. It is possible to opt for a plan with stop-loss insurance, creating a partially self-funded plan, which can help limit risk.
Health Maintenance Organizations (HMOs)
A health maintenance organization (HMO) plan is a co-pay plan that generally requires individuals to pick a primary care doctor as their primary point of contact for medical appointments. That doctor then needs to refer the individual out to see a specialist doctor, such as a rheumatologist, and the referral needs to go through an approval process by the HMO. Most HMOs do not cover provider costs outside of the HMO network. HMOs help employers manage costs. However, they provide less flexibility to employees compared to a PPO and other group health insurance options.
Preferred Provider Organizations (PPOs)
Preferred provider organization (PPO) plans are co-pay plans that operate much like an HMO, with one primary difference — members have more flexibility in selecting their physicians and do not need to select a primary care physician. PPOs often come with higher co-pays and premiums than HMOs, though the flexibility provided to members is generally preferred by employees when compared to HMOs. Providers outside of the group's network are often covered, but at a much lower percentage than in-network providers.
Exclusive Provider Organizations (EPOs)
An exclusive provider organization (EPO) plan allows members to select their primary care physician and specialists, as long as they are in-network, similar to how a PPO works. However, out-of-network providers are typically not covered at any level, similar to how an HMO operates.
High-Deductible Health Plan (HDHP)
A high-deductible health plan (HDHP) is similar to HMOs and PPOs. However, members generally need to meet their deductible before any co-sharing kicks in for the member. For a plan to be considered an HDHP, the deductible has to be $2,700 or more for a family plan and $1,350 or higher for an individual. With healthcare costs rising, many employers opt for HDHPs, which come with lower premiums than traditional co-pay plans.
Plans with high deductibles are typically accompanied by a health savings account (HSA) or a health reimbursement account (HRA). HSAs and HRAs are provided to help offset the up-front out-of-pocket costs that come with the high deductible of an HDHP. An HSA and HRA allow for employer or employee pretax contributions made to them to be used for qualifying medical expenses.
Different Levels of Insurance Plans
Regardless of the group health insurance plan a business selects, the cost of the plan will in part be determined by the level of coverage provided.
Platinum plans cover approximately 90% of the projected healthcare expenses of the member.
Gold plans cover approximately 80% of the projected healthcare expenses of the member.
Silver plans cover approximately 70% of the projected healthcare expenses of the member.
Bronze plans cover approximately 60% of the projected healthcare expenses of the member.
Compared to silver and bronze plans, platinum and gold plan levels have higher monthly premiums with lower out-of-pocket expenses.
What Are the Benefits of Offering a Group Health Insurance Plan?
There are several benefits of having a group health insurance plan in place for your business. Offering group health insurance to employees supports businesses in remaining competitive in the marketplace, helps to lower payroll taxes, allows some businesses to qualify for tax credits, and spreads risk across the pool of insured employees.
Remain Competitive in the Marketplace
Employees want to work for employers that offer benefits, and as such, offering group health insurance helps your organization remain competitive in the marketplace to attract and retain talent. It also supports job satisfaction and a healthier workforce, which leads to increased productivity. In a Society for Human Resource Management (SHRM) report, 90% of employees stated that benefits impacted their overall job satisfaction, and one-third of respondents considered leaving their current employer for an organization with better benefits over the following 12 months.
Lower Payroll Taxes
Employees pay group health insurance premiums with pretax dollars, contributing to lower annual taxes. Employers, in turn, pay less in payroll taxes and may deduct their annual contributions during income tax time.
Small Business Health Care Tax Credit Qualification
Employers who paid employee health insurance premiums purchased through a SHOP marketplace might qualify for the Small Business Health Care Tax Credit, which covers up to 50% of the premiums paid for qualifying health insurance coverage. The tax credit is available for two consecutive years. To be eligible, employers:
Must meet the 25 full-time equivalent employees or less threshold
Need to have paid 50% of the employee premium
Must meet the average annual wage cap for the year (less than $55,000 in 2019)
Spreads Risk Across Pool of Insured Employees
A key advantage of group health insurance plans is that the risk is spread across the pool of insured members, which helps to keep costs low to the employer and employees.
How Does the Affordable Care Act Impact Group Health Insurance?
The Affordable Care Act (ACA) is a federal law that outlines health insurance requirements for employers. Under the ACA, small businesses are not required to offer health insurance. However, group health benefits are an essential aspect of any business's benefits platform and employer value proposition, regardless of size. When small businesses offer health insurance plans, they must abide by certain guidelines under the ACA. Employers who qualify for large group health plans must meet minimum coverage and reporting requirements under the ACA.
What Type of Group Health Insurance Plan Is Best for Your Business?
Finding the right group health insurance plan for your business takes a lot of time and research. If you have no plan in place and would like to implement one, or, if you have a plan in place and would like to evaluate alternative options, KBI Benefits can help. Our team of professional brokers will work with you to assess and identify your current needs and budget. Equipped with that information, we'll get to work to find the right plan for your business according to your specific needs. You'll be provided with group health insurance options to select from at the best price possible, and you'll be supported from start to finish and beyond, if and when your needs change.
If you are ready to explore the travel insurance plans we offer, contact us today by submitting our online contact form or calling us at 408.366.8880. We look forward to working with you!
By Chris Freitas