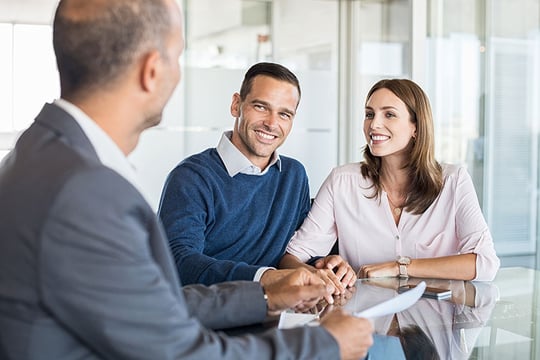 Securing insurance takes time and resources. Because each individual, family, and business has a unique set of risks, there is no such thing as a "one-size-fits-all" policy, regardless of the type of policy you're seeking. Insurance brokers provide the expertise required to help individuals and businesses secure insurance policies to meet a wide array of needs.
If you're in the market for an insurance broker, you might be wondering where to begin your search. Not all insurance brokers are the same, and you want to ensure that you're working with an insurance broker or brokerage firm you can trust to secure the type and level of coverage you or your business requires.
Here are some questions to consider as you begin your search:
Do I have the time and knowledge to invest in securing my insurance?
What types of insurance do I need and is it possible to get them all through one broker?
Do I need and want long-term support from a broker?
How do I locate reputable insurance brokers?
What types of experience and qualifications should a broker have?
What kind of insurance broker or firm would be a good overall fit for me or my business?
To help you answer these questions and more, continue reading for ten insurance broker considerations.
Insurance Broker Considerations: 10 Things to Look For
1. Consider the Benefits of Working with an Insurance Broker vs. an Insurance Agent
One of the first questions often asked when researching insurance is "What's the difference between an insurance agent and an insurance broker?" The key difference between an insurance broker and an insurance agent is who they represent. An insurance agent works for and on behalf of the insurance company. An insurance broker, on the other hand, works for and on behalf of the consumer.
Since insurance brokers work on behalf of the consumer, their loyalty lies with the consumer and not with the insurance company. Insurance brokers often have expertise in several types of insurance. They work with numerous insurance companies to bring several policies and pricing options to individuals and businesses. Also, brokers often receive a broker discount from insurance agencies for the policies they sell, and that discount is passed on to the consumer.
2. Research and Ask for References and Referrals
References provide you not only with information about the quality of a broker's service, but also offer insights into the type of service provided. Research Google and Yelp for online reviews and ask specific brokers you're considering for references from individuals and businesses who had needs that were similar to yours. If you're a business, research past clients who were similar to you in type, industry, location, economics, and size. The Better Business Bureau is another good resource to confirm that the companies you're considering are in good standing. Asking friends and professional acquaintances for referrals is another great way to identify insurance brokers. However, referrals alone aren't what you want to go on, as you'll want to make sure that the insurance broker is a good fit for your specific insurance goals.
3. Seek Accessibility to All of the Coverage Types and Levels that You Need
It's wise to go with an insurance broker who can offer coverage for all of the types of insurance you need, as well as the level of coverage you'll need. By working with an insurance broker that specializes in a variety of insurance types, you'll be able to purchase all of your policies through that broker. This allows your broker to more easily confirm that there are no gaps in coverage. It also helps verify that you're not purchasing unnecessary coverage and wasting money. You also want to consider whether or not you need local, national, or global coverage. Identify a broker who can offer the scope of coverage that you require.
4. Look for Specialized Expertise, Qualifications, and Associations
Insurance brokers are required to be licensed by the states in which they offer services, so it's essential that you work with a broker who is up to date and current on licensure requirements. In addition, ask the brokers you speak with what their education, qualifications, and areas of expertise are. You'll be most supported by insurance brokers who specialize in the types of coverage you need. Further, professional qualifications and memberships that are in good standing with professional insurance organizations speak to an insurance broker's commitment to ethics, trustworthiness, expertise, and professionalism. Be sure to also ask about the entire team's area of expertise and qualifications. In some instances, you might initially be working with the individual you're speaking with, while in other instances, you might be assigned another team member to support you in securing insurance now or in the future.
5. Consider Overall Fit vs. Cost
Overall fit matters the most when you're deciding on insurance brokers. Are you comfortable with their business processes? Do you trust them? Do they offer the types of coverage you need? Do you feel you'll be able to create a positive, long-term working relationship together? Will they be easily accessible when you have questions or need to revise policies? Will they be easy to work with, or do you feel like you'll be doing a lot of the heavy lifting? Are they able to answer your questions?
That's not to say cost doesn't matter. You want to work with an insurance provider who can offer options that fit within your budget. But since insurance brokers work with several insurance companies to help clients secure insurance, they're typically able to negotiate pricing that fits within their clients' budgets.
6. Seek Personalized Guidance
As previously touched on, each client is unique and has a specific set of insurance needs and requirements. As a result, a reputable insurance broker will take the time to get to know you and your needs to offer plenty of insurance coverage options for your scenario. When working with an insurance broker, you should feel that you are being heard and that meeting your needs is a top priority for the broker.
7. Consider Long-Term Relationship and Future Support
In many instances, you'll need to update and revise current policies and add new policies as your business' needs change. Working with a broker who will assist you when future needs arise can take a lot of stress off of your plate. By forging a long-term relationship, it also means you won't have to get to know a new broker — and vice versa — in the future, which saves you time by not having to go through the process all over again.
Another important note to consider is the fact that the laws regarding insurance requirements are continuously changing. It's beneficial to know that you have an insurance broker who will keep you abreast of those changes and ensure you have policies that align with legal requirements.
8. Know that Employee Benefits Is a Specialized Niche
Insurance considerations for an employee benefits platform is a highly specialized niche. If you need employee benefits options to offer to your employees, look for an insurance broker who specializes in all types of employee benefits insurance. At a minimum, they should specialize in health, life, disability, and worker's compensation insurance.
9. Consider Transparency and Fees
When you interview insurance brokers, you should feel comfortable with the answers you receive to your questions. If you're not, then it's time to move on. An insurance broker or brokerage firm should also be upfront and transparent about fees and commissions, offering you full disclosure on the terms of payment and fees.
10. Look for Stability
Once you have a list of brokers or brokerage firms you're considering, ask to see their financials. Also, do your own research on the firm's history. You want to know you're working with a stable company that won't go under once you choose to hire them.
KBI Benefits Offers Full-Service Insurance Support
The insurance world might feel complex and overwhelming, and in most instances, it is. That's why working with an insurance broker can be a considerable stress-reducer for individuals and businesses. At the same time, you want to know that you're working with an insurance broker or insurance brokerage firm you can trust.
At KBI Benefits, we've had the privilege of working with businesses of all types and sizes to build trust and forge long-term relationships through the years. Specializing in a variety of insurance types and coverage levels, we do our best to take the pain out of the insurance process so you can focus on taking care of yourself and your business.
Our team works closely with our clients to get to know them. As a result, we can ensure that we're offering the support and insurance options to meet their level of risk and coverage requirements. We would love the opportunity to get to know you to develop a strategy and plan for your short- and long-term needs.
If you are ready to explore the travel insurance plans we offer, contact us today by submitting our online contact form or calling us at 408.366.8880. We look forward to working with you!
By Chris Freitas