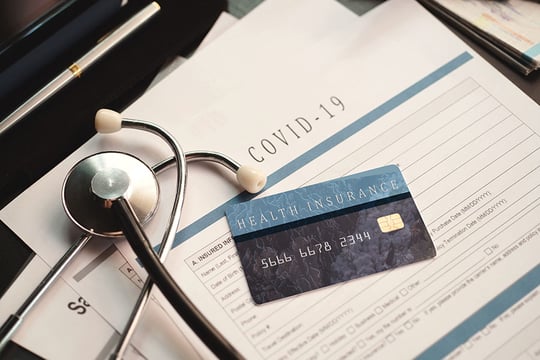 COVID-19 and insurance have been a hot topic since the pandemic began in the U.S. earlier this year. With no apparent signs of relief for the near future, individuals and businesses continue to face uncertainty about what the remainder of 2020 will be like for financial viability, health and safety, and insurance coverage.
When we take a look at COVID-19 and insurance, many branches of insurance are affected. Health, auto, and business insurance, for example, have all been significantly impacted. Employee benefits have also been impacted, especially when considering what insurance rates and premiums will look like in 2021. The question for many businesses is whether insurance premiums will be affordable.
COVID-19 and Health Insurance Legislation
Various actions have been taken by the U.S. government and private insurance carriers to mitigate costs associated with COVID-19 testing and treatment after diagnosis.
Families First Coronavirus Response Act (FFCRA)
The passage of the Families First Coronavirus Response Act (FFCRA) in mid-March eliminated the cost of COVID-19 testing for most individuals. Diagnostic testing deemed medically appropriate by a healthcare provider is also covered under FFCRA, so insurance carriers can permit no cost-sharing. All forms of private insurance and public insurance, including self-funded plans, high-deductible plans (HDHPs), and grandfathered plans, must cover these costs entirely. Under FFCRA, as long as a COVID-19 test is considered medically necessary and the patient has been recently exposed to SARS-CoV-2 or shows symptoms or signs of COVID-19, the cost of the test must be covered 100%. Limited, short-term duration plans are excluded from FFCRA.
The Coronavirus Aid, Relief, and Economic Security (CARES) Act
The Coronavirus Aid, Relief, and Economic Security (CARES) Act that went into effect in late March required private plans to cover the entire cost of out-of-network COVID-19 tests. The CARES Act requires insurance plans to reimburse claims at up to the cash price posted on the provider's public website. Providers who do not post the test cost face a penalty of up to $300 per day. Under the CARES Act, out-of-network providers can still bill patients directly. Assuming that they can afford the initial expense, patients can then submit the bill to the insurance plan for reimbursement. For those who cannot afford the up-front bill, they might choose to forgo testing. Serology tests that determine if an individual has been infected with the virus that causes COVID-19, SARS-CoV-2, must also be covered by private plans, Medicaid, and Medicare. Neither FFCRA nor the CARES Act requires coverage of regular tests that organizations might require for screening purposes when reopening.
Coverage for the Uninsured
The uninsured are covered for COVID-19 testing through Medicaid with 100% federal financing through FFCRA. The majority of U.S. states, including California, Texas, and New York, have implemented this Medicaid-approved temporary disaster relief. The COVID-19 Claims Reimbursement to Health Care Providers and Facilities for Testing and Treatment of the Uninsured program also reimburses costs related to testing for the uninsured. The burden falls on the uninsured to locate a provider that is participating in the program. In some cases, providers are charging a lot more than the $100 per test that the Centers for Medicare and Medicaid Services will reimburse providers, leaving some uninsured individuals in a financial bind.
COVID-19 Treatment
There are currently no federal regulations that require health insurance providers to cover costs for individuals who need treatment for COVID-19. Without coverage, many with COVID-19 might choose to go untreated. If those with insurance do not have enough coverage for the full cost of treatment, they might also choose to go untreated.
Out-of-pocket treatment costs will vary by the level of coverage and the level of treatment required. A KFF analysis found that people with large employer-sponsored insurance coverage were out-of-pocket up to $1,300 if they required hospitalization for pneumonia, which is a common complication of COVID-19. Individuals with more expensive cost-sharing plans, common through the private individual market and small businesses, will likely see higher cost-sharing for COVID-19 treatment.
Though no precise eligibility requirements are in place, a relief fund was set aside for providers and hospitals as part of the CARES Act to cover uninsured individuals who require Coronavirus treatment. Some health insurance providers responded to the Coronavirus by waiving or reducing treatment costs. Aetna and AmeriHealth Caritas fall into this category. A complete list of providers covering or reducing treatment costs can be found on the AHIP website.
COVID-19 Vaccination
The Coronavirus funding package passed in early March stated that a vaccine if developed should be available at a reasonable and fair price. It's projected that once a vaccine is available for COVID-19, it will be available without cost-sharing as part of the Affordable Care Act's preventative care requirement. Once a vaccine becomes available, all who are enrolled in Medicaid are covered under the FFCRA to receive the vaccine without cost-sharing.
Auto Insurance and COVID-19
Due to stay-at-home orders resulting in fewer drivers on roadways, many auto insurance companies provided a rebate or premium reduction for all or some of March, April, and May. The insurance commissioner of California even ordered automobile insurers to issue policy refunds for March, April, and May due to lower auto accident risk while sheltering in place. The commissioner also requested that insurance companies provide a 60-day grace period for policyholders to pay premiums through July 14.
Since March, Allstate, Chubb, American Family, Farmers, State Farm, GEICO, Harford, Nationwide, Progressive, Liberty Mutual, USAA, and Travelers all issued some sort of refund to their policyholders throughout the U.S. For those who didn't receive a refund from their auto insurance carrier, it's worth it to give the carrier a call and request a policy reassessment to see if a lower insurance premium or refund is available due to the impact of COVID-19.
Property Insurance and COVID-19
Because organizations continue to have their employees work from home, there could be an opportunity to downsize offices and retail spaces. Consequently, businesses might be able to reduce property insurance costs.
What Does COVID-19 Mean for the Future of Insurance and Insurance Rates?
Insurance companies play a vital role in the financial market. With the decrease in the value of financial assets combined with the increased risk and costs due to the pandemic, insurance companies find themselves in a tough position. They are at risk of not being able to pay out costly insurance claims while abiding by government regulations and maintaining their client base. We are likely to see a significant shift in business interruption insurance, underwriting procedures, and health insurance rates in 2021.
Business Interruption Insurance
Per an article in Forbes by Suzy Taherian, only 30% of companies secured business interruption insurance in the past. As a result of COVID-19, 100% of businesses were interrupted. This will likely result in a significant increase in organizations seeking business interruption insurance in the future. However, many insurance underwriters will likely exclude pandemics and communicable diseases from business interruption insurance going forward. To recoup losses, businesses should carefully evaluate current policies to see where they might be covered for disruption due to the pandemic.
Workers' Compensation Claims
Working from home might become the new, long-term norm for many organizations. As a result, workers' compensation risks for at-home workers need to be evaluated and assessed. Creating work-at-home agreements and identifying ways to mitigate workers' compensation risks and claims is vital for safety and cost-effectiveness. As reported in the article by Taherian, there is currently a workers' compensation claim against an employer by an employee who tripped over his dog while working from home.
Longer Insurance Underwriting Wait Times
With increasing insurance costs due to claims related to pandemic losses, insurance underwriters will be especially careful to minimize future insurance claims. If you're in the market for insurance, you'll want to allow time for underwriting and be patient through the process.
Increased Health Insurance Rates
With thousands of citizens impacted by the virus and in need of health care, insurance costs are projected to increase for 2021. Due to safety concerns and stay-in-place orders, many individuals have also put off caring for their health conditions and needs and are likely to need care simultaneously in 2021. Currently, insurance providers have to navigate what to propose for 2021 insurance rates while attempting to determine the impact that COVID-19 will have on their costs through 2020.
As an example of the hefty increases that individuals and businesses might face in healthcare premium costs, New York City providers are seeking an average 11.7% increase in plans in the state's individual health insurance market. Fidelis Care, a New York health insurer, is seeking to increase monthly health plan premiums by 18.8% in 2021. Oscar, another New York health insurer, is seeking a 19.1% increase. MetroPlus, a New York public hospital system-run plan, seeks a 9.6% increase. These increases are well above the average increase of 8.4% in 2020 over 2019 monthly premiums. The cited reasons for these increase requests include pent-up demand in health care that will take its toll in 2021, along with direct costs of covering COVID-19 tests and treatments. Commercial health plans are also losing policyholders throughout the country (6.4% decrease for New York marketplace plans alone), impacting profits, and creating the need to increase premiums.
The inevitable rising insurance costs resulting from the pandemic will be problematic for the many individuals throughout the country who have lost their jobs or a significant amount of income due to COVID-19. Businesses that have suffered significant losses due to the Coronavirus will also be facing challenging times to support increased costs of employee benefits and health insurance premiums.
Employee Benefits Premiums
Nearly 60% of Americans have health insurance through an employer. If a recession continues and employees continue to lose jobs, it could leave thousands of previously insured individuals uninsured. Without income, it makes it challenging to secure insurance outside of an employer, though many might be eligible for Medicaid, Medicare, or a reduced rate through the Healthcare Marketplace.
Many small businesses already struggle to offer employee benefits with the consecutive year-after-year increase in insurance premium costs. Now that many companies have lost revenue and continue to face decreased profits for a sustained period due to the Coronavirus, offering benefits at the current cost can prove to be even more challenging. Current premiums are predicted to increase substantially for 2021, leaving many businesses with some tough choices. Companies will need to take a close look at their current offerings and review all available options to continue offering quality benefits at an affordable price for both the employer and the employees.
A benefits broker specializing in employee benefits can be highly beneficial for small businesses to navigate these uncertain times. A benefits broker can offer market data and share current trends and projections that take the Coronavirus into account. Because brokers have lasting relationships with many insurance providers, they can also ensure that you get the best pricing possible while providing guidance on where you might be able to cut costs and still offer a comprehensive employee benefits platform.
KBI Is Here to Guide You Through the Uncertainty of Current Times
At KBI, we understand how challenging these times of uncertainty are for individuals and businesses. Our team of insurance experts is staying on top of current trends and COVID-19-related topics to keep our clients and consumers informed. If you're currently in the market for insurance or seek guidance on the best steps to mitigate risks and cost reduction for your business, we are here to help. We'll take the time to listen to your concerns, assess your current state of affairs, and provide suggestions and guidance on the best way to move forward with your insurance policies and employee benefits platform. Together, we'll navigate the rest of 2020 with the best strategy possible.
Contact us today by submitting our online contact form or calling us at 408.366.8880. We look forward to working with you!
By Chris Freitas