You invest your time and energy into building your company and when success takes off for you, you need to align yourself with partners who can and will grow with you. We are proud to say that KBI has recently joined forces with Rippling, a full-service HR and IT company that can serve you as you grow from 1 to 1,000 employees.
Many small and mid-sized businesses have heard of Gusto and use its services for their basic Human Resources issues such as payroll and benefits administration. Rippling offers so much more and we believe it's a great match for our clients who are growing!
Rippling offers a modern and fully integrated Payroll, Benefits, and HR platform that eliminates the administrative burden for HR teams by consolidating their HR & IT workflows into a single system. Through our partnership, you'd get preferred pricing on all of Rippling's services.
Below are a few things their platform automates:
Generating employment agreements for eSignature (offer letters, W4, I9, handbook, etc.)
Automatically setting employees up in payroll, pro-rating their salary, adding signing bonuses, etc.
Providing a digital benefit enrollment flow for employees and syncing data back to payroll.
Automating carrier enrollments via EDI & API feeds.
Offering a single debit card for HSA, FSA, Commuter Benefits and syncing deductions to payroll.
End-to-end ACA and COBRA administration.
Integrated Applicant Tracking, Performance Management, Time Tracking, etc.
Many times you will find yourself handling some of the IT admin work at your company, Rippling automates those workflows too. They can ship out pre-configured computers for new hires and automatically create new hire's user accounts in 500+ 3rd party cloud applications like G-suite, Slack, Box, Expensify, Salesforce, etc.
Need more info on how Gusto stacks up against KBI + Rippling? Take a look here: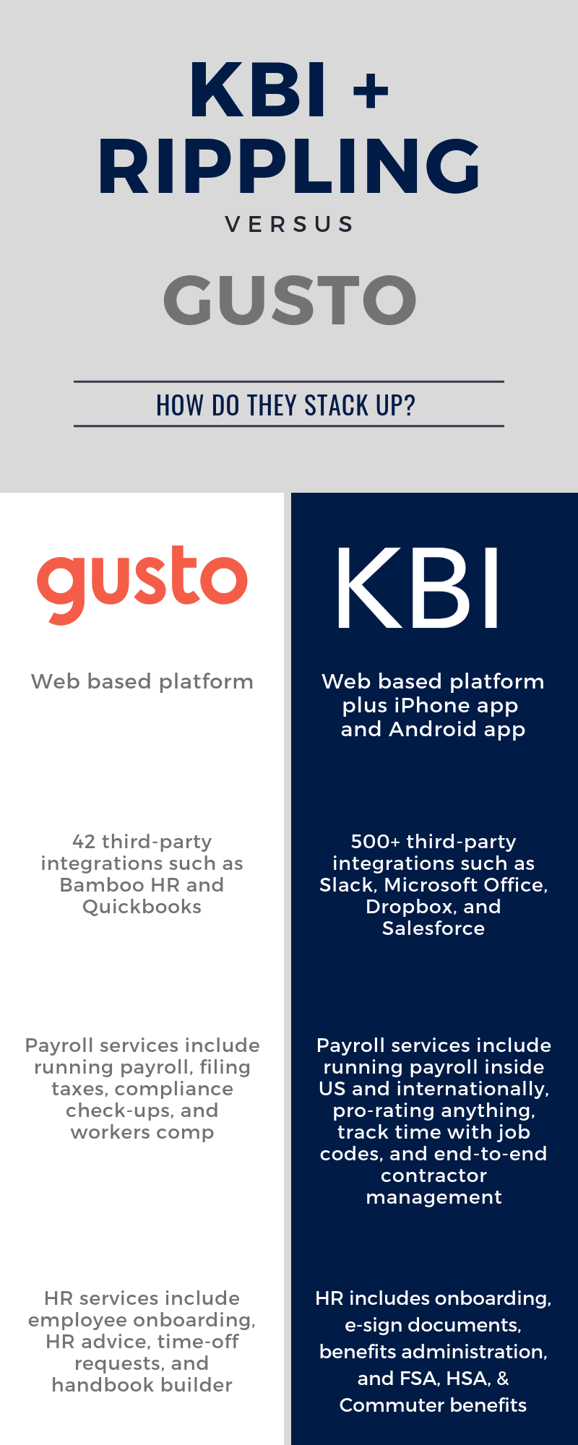 As you grow your business you'll need IT and HR platforms that can keep up the pace with your success. With KBI's new partnership with Rippling, we know we will surpass your expectations as we service your HR and IT needs. Email Chris today at Chris@KBIBenefits.com to schedule a demo.