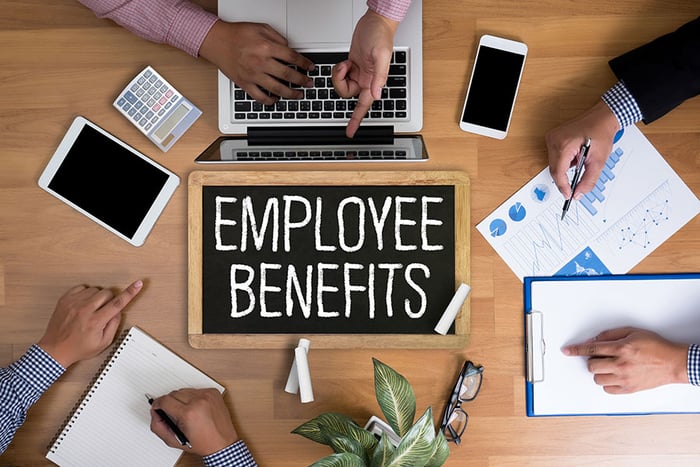 It's no secret that benefits are important to employees. An Aflac employee overview survey showed that 60% of workers would accept a job with better benefits, even if the pay was lower. Another study by Fractl showed similar results, with 88% of workers saying that they would consider a lower-paying job over a higher-paying one if the health benefits were better.
In a 2018 Clutch survey, 14% of employees surveyed said that they would like their employer to offer different benefits altogether, and 52% said that they would like their employer to increase the level of a benefit they already had. A Society for Human Resource Management (SHRM) job satisfaction and engagement survey reported that 92% of employees believed that employee benefits were important to overall job satisfaction.
Organizations that offer robust benefits programs are more likely to attract and retain top talent. And since benefits are also linked to job satisfaction, it implies that benefits are also linked to increased employee morale, well-being, and productivity.
Due to the nature of employer-offered benefits, change is inevitable for one reason or another. For organizations, knowing how to handle a change in benefits is almost as critical as offering the benefits themselves.
Reasons Organizations Change Employee Benefits
There are several reasons employers change employee benefits. Adding or removing benefits can keep benefits programs current and competitive for many employers. Other employers might choose to update their benefits platforms when they need to compete in a new market or geographical location.
Some might change their benefit offerings based on employee feedback. Some might even make benefits changes to cut costs and either downsize their current platform or replace benefits with similar but less costly benefits. This may include switching from a traditional co-pay medical plan to a high-deductible medical plan.
In some instances, the benefit offerings might not change. Still, the cost-sharing percentage might, which often happens when health insurance premiums increase and organizations decide to pass some of the cost onto the employee.
Especially in the case of small businesses, they might be offering benefits for the first time or are at a point where they can finally afford to upgrade their benefits offerings without breaking the bank for the company or its employees. Finally, some businesses might need to change their benefits platform to keep up with federal, state, or local benefits legislation, while others might need to change their benefits to remain competitive.
Regardless of the reason, changing benefits can be a challenging and stressful process. From deciding what to change and finalizing plans to determining the best way to share changes with employees and managing their questions and concerns, a lot of work is required to change benefit options. Fortunately, a benefits broker like KBI can help you determine how to handle a change in employee benefits. You don't have to handle the change management process alone.
How to Handle a Change in Employee Benefits
Organizations must know how to handle a change in benefits. Poor change management can lead to a decrease in employee morale. It can also lead to low participation and engagement in benefits decisions that are important for the employee to make. There are specific steps your organization can take to manage a change in benefits effectively, including developing a well-thought-out communication plan, anticipating employee reactions, helping employees manage the change, and utilizing HR data analytics.
Develop a Communication Plan
One of the most important steps you can take is to inform your employees about a change in benefits as soon as possible. Many organizations fall short when it comes to communications about benefits, sharing information only during open enrollment or when new benefits are introduced. Communications about benefits should occur frequently and throughout the year to keep employees informed and engaged, whether or not there is a change in benefits. As part of your benefits change communication plan, consider the following:
Share information early and often.
Create a communication calendar.
Clarify reason(s) for change(s).
Incorporate periodic surveys.
Honor different communication styles.
Keep it simple.
Develop a Q & A.
Share Information Early and Often
After you work out the kinks and you're clear on what the benefits changes will be for your organization, communicate with employees as soon as possible. Employees will appreciate receiving the information ahead of time; they will be able to ask about and better prepare for the changes. To engage and get in front of as many employees as possible, communicate the upcoming changes regularly.
Clarify Reason(s) for Change(s)
Because employees will want to know, it's wise to explain why changes are being made to your company's benefits program.
Was cost a factor for the company or the employees?
Were changes made based on your employees' requests?
Are you aligning more with comparable market practices?
Are you seeking to serve your employee demographic better?
Did the benefits being removed have a low utilization rate?
Employees will appreciate honesty and transparency about benefits changes. You don't want your employees to think you're hiding anything by not sharing your answers.
Create a Communication Calendar
To share information efficiently, create a communications calendar as part of the project plan to implement a change in benefits. A detailed communications calendar might include:
The benefits changes to be implemented.
The types of communications to be administered (e.g., posters, emails, in-person presentations, Q&As, videos).
The platforms to be used (e.g., employee meetings, hard copy, social media, website).
The in-house and vendor parties responsible for each communication.
The date each communication will be finalized.
The timing of each communication.
Incorporate Periodic Surveys
Surveys are an excellent tool for employers to get feedback from employees. Once you communicate changes in benefits and your employees have had time to process them, issue a survey to gauge employee morale and receptivity to their new circumstances.
Issue another survey soon after you launch the benefits changes to see how things are going. From there, periodic surveys are useful for understanding employee sentiments and gathering information for current and future use.
Honor Different Communication Styles
With five generations that span the workforce today, each generation gravitates toward a preferred method of receiving information. For example, the younger generations might prefer to receive information on their phones, while older generations might prefer a physical packet.
Even without generational differences, however, everyone has different communication and learning styles. Some of us prefer in-person verbal communications, while others prefer reading documents, watching videos, or listening to audio files. To reach as many people as efficiently as possible, provide notifications about benefit changes in various formats.
Also consider reaching employees where they hang out on different distribution channels, such as your company website, email, mobile devices, social media, and instant messaging. You will likely reach a broader audience by considering both communication styles and multiple distribution channels when developing your communication plan.
Keep It Simple
When developing communication materials, keep them as simple and direct as possible. They should also be positive and easy to understand.
Develop a Q & A
A Q&A document is a useful tool to share with your employees about upcoming benefit changes. You can work with your benefits broker or plan administrator to develop a list of questions to include. Some questions that employees often have are:
What benefits are changing?
What benefits are being added to the benefits platform?
Why are benefits changing?
What is the cost impact on employees?
What is the cost impact to the company?
What is the timing of the change?
When will the new benefit plan(s) be active?
Who is impacted by the change?
Who is administering the plan changes?
Who is the benefits plan administer?
Who do employees contact with questions?
Anticipate Employee Reactions
Anticipating your employees' reactions to the upcoming benefits changes will help you manage expectations and communications. If the benefits changes are generally good and don't affect costs for employees, you likely won't have anything to be concerned about. In that case, you should expect a positive response.
On the other hand, if benefit plan options are changing in a way that's comparatively limited and costly for employees, you should expect a negative response. Employees might be unhappy, for example, to learn that their current health care providers are no longer covered under any new medical plans. A negative response to these types of situations is understandable. After all, you are possibly impacting your employees' finances, as well as their well-being and current healthcare provider team.
Managing expectations of responses is essential in these types of situations. Coach your management team and leaders to show compassion and empathy toward employee concerns. If you field appropriate employee questions to your benefits broker, use caution: You don't want it to seem like you're passing your employees concerns off to a third party. If your benefits broker is well known among your employees and considered to be part of the family, however, it might be safe to do so.
Provide Support to Help Employees Manage the Change
Benefit changes can be challenging for employees to manage, especially if changes are extensive or affect medical plans. In addition to providing early and frequent communications about your benefit changes, offer to help your employees get the support they need to manage the benefits changes that impact them individually.
Benefit broker or provider sessions for your employees will allow them to ask specific questions about the benefits changes. One-on-one sessions are a great way to allow employees to ask individual questions that they might not be comfortable asking in a group setting.
Though hopefully unnecessary, consider highlighting any mental health benefits that you offer. Doing so will allow employees to seek support for any stress associated with their benefit changes.
Use HR Data Analytics
HR data analytics support businesses in making data-backed decisions. Using HR data analytics to track benefits data collection and reporting allows your organization to make informed decisions about current benefits changes while also providing useful data about possible changes your organization might wish to make in the future.
Change Is Inevitable Yet Beneficial
Changing benefits options or platforms is necessary at some point for virtually every employer that offers employee benefits. Regardless of whether the changes will be received as good news or bad news — or maybe a combination of both — it's important to give some thought about how to handle a change in employee benefits. Your employees will appreciate your taking the time to be upfront about upcoming changes and giving them time to process and prepare for them.
There is no one-size-fits-all approach. Our team of professional brokers at KBI Benefits is here to help you assess what options are best for your organization. KBI has worked with businesses of all sizes to support changes in benefits. From determining what benefits to change, remove, or add to creating an employee communication strategy to clarify changes and next steps, KBI ensures that you are not in it alone. Our team of benefits brokers is backed by years of experience and a reputation for tailoring our approach to the needs of each business client.
If you are ready to explore your health insurance options, contact us today by submitting our online contact form or calling us at 408.366.8880. We look forward to working with you!
By Chris Freitas