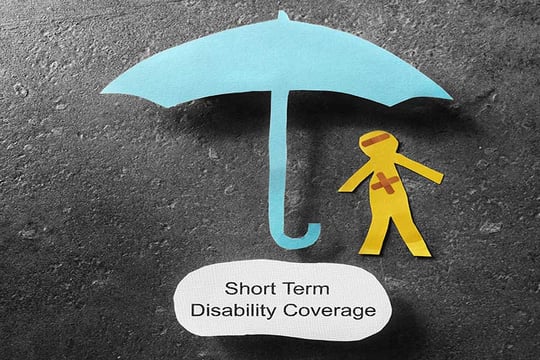 What would happen if, one day, you found yourself facing an illness or injury that meant you couldn't work for a period of time? Even if you wanted to go back to work as soon as possible, the doctors have advised against going into the office or even working from home. Instead, you need to take some extended time off from work to heal and recover.
This type of scenario might have you crunching numbers and attempting to figure out how you're going to manage the bills while away from work. You need a steady income to keep up with payments and put food on the table, especially if you don't have savings to support you.
You wouldn't be alone. According to the Council for Disability Awareness:
More than 25% of 20-year-olds will be out of work for a minimum of a year due to a disability before they reach typical retirement age.
An average of 5.6% of Americans that work will experience a short-term disability of six months or less from an injury, illness, or pregnancy each year.
The most common claims for short-term disability are digestive disorders (7.8%), musculoskeletal disorders (20%), mental health challenges (7.7%), physical injuries (7.5%), and pregnancy (25%).
Just 48% of American adults have enough savings to cover three month's worth of living expenses.
Nearly 50% of American adults couldn't pay an unexpected $400 bill without the support of a loan or selling something to cover it.
Outside of basic Social Security coverage, 51 million working adults, at a minimum, do not have disability insurance.
Medical bills and illness or injury caused 18% to 26% of bankruptcies in a 2013 study in the 2014 Maine Law Review.
Short-Term Disability Insurance Mitigates Financial Risk
Short-term disability insurance is a type of insurance created to cover scenarios similar to the one outlined above. Short-term disability provides financial protection by replacing a portion of your compensation for illnesses or injuries that prevent you from being able to work for a temporary period. The illness or injury needs to be non-job-related for short-term disability to cover it. Job-related illnesses and injuries are covered under workers' compensation insurance.
How Can You Qualify for Short-Term Disability Insurance?
The most common way for individuals to get short-term disability insurance is through their employer. Some states require employers to offer short-term disability insurance, including California, New Jersey, Rhode Island, Hawaii, and New York. Even in states where it's not mandated, employers commonly offer it due to the federal tax break they receive when they do.
Employers frequently offer short-term disability as a free benefit to employees. In some cases, employers offer short-term disability insurance and share the cost with employees who opt to purchase the insurance. The employee covers 100% of the price in other instances. Regardless of the setup, it is wise to opt-in for short-term disability insurance through your employer to protect yourself if you might need it in the future.
Individuals can purchase short-term disability insurance through a private insurance firm, though it often comes with a hefty price tag, compared to employer-offered plans. If you need an individual short-term disability insurance plan, consider working with a brokerage firm like KBI that can help you shop around for the best short-term disability insurance companies and prices for your needs.
What Is Defined As a "Disability?"
It's important to carefully check the plan documents to determine what is and is not covered under a short-term disability plan. In general, any non-job-related illness or injury that renders you unable to work is covered under short-term disability plans. A chronic or sudden illness requiring continuous treatment, a major surgery that requires a long recovery, complications from childbirth, or an accidental injury are generally covered. Childbirth, or maternity leave, is often covered under short-term disability plans, as well. Mental health issues or illnesses are also covered under some plans.
How Much Time Off Is Permitted Under Short-Term Disability Plans?
The coverage permitted under a short-term disability plan is based on how the plan is structured. Each plan is different, so you'll want to defer to your plan documents. Generally speaking, short-term disability plans cover anywhere from three months to one year of compensation. In rare cases, coverage can be as little as 30 days or might extend beyond a year, with a maximum benefit period of no longer than two years.
Another factor that determines how much coverage you might receive for a specific illness or injury is based on medical guidelines. Some conditions or injuries have a general timeframe for how long recovery should take, and you'll be covered for up to that amount of time or the amount of time the plan allows, whichever is shorter.
If you end up needing more time than what your short-term disability plan covers, then you might be eligible to apply for long-term disability. Per stats provided by the Council for Disability Awareness, cancer (15%), musculoskeletal disorders (29%), pregnancy (9.4%), mental health challenges (9.1%), and physical injuries (9%) are the most common illnesses or injuries for long term disability claims. We'll cover long-term disability insurance in our next blog post.
How Much Compensation Will I Receive?
The compensation received is dependent upon the plan you have. Most plans offer 50% to 70% of your monthly base pay in short-term disability compensation. Some plans are designed to provide more compensation based on your years of service, up to 100% of your monthly base pay. The more years of service you have, the more compensation you receive. For example, if you have 15 years of service, you might receive a few months' worth at 60% and a few months' worth at 100%, depending on how long your illness or injury endures. Some short-term disability insurance policies have a maximum amount, or cap, of how much compensation you can receive monthly.
How and When Will I Receive My Short-Term Disability Benefits?
The schedule of payments varies between short-term disability plans, as well. Typically, if you have short-term disability insurance through your employer, your payments will be administered by the insurance company. Thus, your insurance payments will likely be on a different schedule than your regular employment paychecks. It is also possible that the payments will be distributed differently, such as on a debit card, instead of being directly deposited into your bank account.
When Are Short-Term Disability Benefits Initiated?
If you think you will need to utilize short-term disability benefits, the first step is to ensure that you have the required documentation to verify your illness or injury. Work with your doctor and have an honest conversation about your illness or injury and what amount of time off will likely be required for you to recover. Your doctor will need to provide documentation of your illness or injury and recommended time off.
In most companies, the next step is to go to your HR representative or manager to initiate the short-term disability process. They should then be able to help you initiate your short-term disability claim with the insurance provider or direct you on how to do so. Check your company's policies and procedures to get clear on the steps you need to take. Once the insurance provider has your claim, they'll walk you through the medical records required and the next steps.
In some cases, an employer might require you to utilize your vacation time or allotted sick time before using your short-term disability benefits. There is also what's referred to as an elimination period, or a period of time you need to be out before short-term disability takes effect. The elimination period can be anywhere from 0 to 14 days. The type of illness or injury might also dictate when your benefits kick in. Your short-term disability might kick in immediately for an injury that instantly renders you unable to work, compared to an illness that might require a few days to determine if you'll need to be out to recover.
KBI Offers Short-Term Disability Insurance Support
KBI is backed by years of industry experience. Having worked with thousands of clients, we appreciate the challenges and stress that can come with securing insurance coverage at an affordable price for both individuals and companies.
At KBI, we work with several short-term disability insurance providers to help our clients find the best plans and pricing available. If you're an individual looking for a plan or would like to encourage your employer to offer short-term disability benefits, we can help. Or, if you're an employer looking to change short-term disability providers or add short-term disability insurance to your employee benefits package, we can work with you to get the best plan and pricing for your organization. We are your one-stop-shop for all of your insurance needs.
Contact us today by submitting our online contact form or calling us at 408.366.8880. We look forward to working with you!
By Chris Freitas