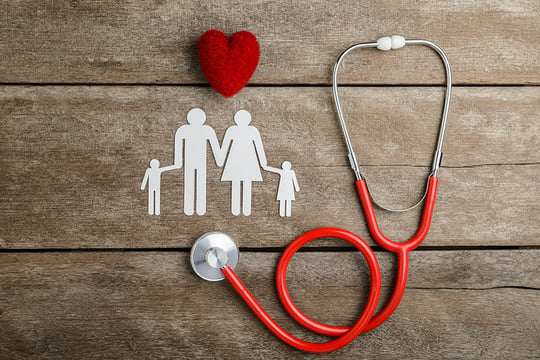 Health insurance helps individuals and families pay for medical expenses related to injury or illness. The standard model for health insurance plans is cost-sharing, in which the insurer pays a certain percentage of medical costs and the insured pays the rest.
Most insurance plans include a deductible, out-of-pocket maximum, co-payment, and co-insurance:
Deductible: The deductible is the amount the insured needs to pay before the insurance plan kicks in to pay a portion of medical expenses. If you have a family plan, each member of the plan might have an individual deductible, and you might have a family deductible. If an individual's deductible is met, their co-insurance kicks in. Once the family deductible is met, however, co-insurance kicks in for the entire family, even if individual deductibles haven't been met.
Co-payment: A co-payment is a flat fee amount you pay any time you receive certain types of medical care, such as seeing your primary care physician or filling a prescription. Co-pays can apply both before and after you hit your deductible, although they typically do not apply once you've hit your out-of-pocket maximum.
Co-insurance: Co-insurance is the portion of the medical costs you pay after you have met your deductible. Co-insurance percentages vary between insurance plans.
Out-of-pocket maximum: The out-of-pocket maximum is the maximum amount of expenses you have to pay before your insurance covers 100% of your medical costs. Once you hit your out-of-pocket maximum, you no longer have to pay your portion of the co-insurance.
These four factors will determine how much you pay out-of-pocket for medical expenses on top of the premium you pay for your plan. Premium rates are determined by factors such as your age, tobacco use, where you live, the level of coverage you purchase, and whether or not you have an individual or family plan.
Who Needs Health Insurance?
If you are alive, you need health insurance. Medical bills are one of the leading causes of financial hardships and bankruptcies. Health insurance helps to mitigate financial risk while also taking care of your wellbeing. There are different personal insurance plan options available based on income, family status, and other variables, which are all discussed in the following sections.
What's the Difference Between Employer Group and Private Health Insurance Plans?
Employer group health insurance plans are plans offered through an individual's employer. Due to economies of scale and a larger risk pool, group health insurance plans are often less expensive than private health insurance plans; however, not all employers offer group health insurance. Many individuals are also self-employed, unemployed, or unable to work, which makes it necessary for them to purchase private health insurance.
What's the Difference Between Public and Private Health Insurance Plans?
Public Insurance Plans are plans offered through government agencies and include Medicaid, Children's Health Insurance Program (CHIP), Medicare, and health insurance for U.S. Veterans. Private health insurance plans are offered by private insurance companies. Private companies might offer on-exchange plans that can be purchased through the federal healthcare marketplace or state healthcare exchange platforms. Or they might only offer off-exchange private insurance through their organization or a private exchange platform.
Public Health Insurance
Medicaid and CHIP
Medicaid is a public health insurance plan that is a good option for individuals and families with a low income. CHIP is designed to cover children younger than 18 whose families make too much to qualify for Medicaid but not enough to cover private insurance costs. You can typically apply to see if you are eligible for Medicaid and CHIP through your state's exchange website or healthcare.gov.
Medicare
Medicare is U.S. federal health insurance for individuals over the age of 65. There are four Medicare parts that cover different medical services at a free or reduced-cost:
Part A covers inpatient hospital care.
Part B covers outpatient care.
Part C allows you to buy private health insurance and apply both to qualifying medical expenses.
Part D covers prescription drugs.
You can apply for Medicare if you're over 65 through your state's exchange website or healthcare.gov.
U.S. Department of Veteran Affairs and TRICARE
Veterans might qualify for insurance through the U.S. Department of Veteran Affairs. TRICARE health care covers individual and family expenses of active duty service members.
Private Health Insurance
On-Exchange Private Health Insurance
On-exchange private health insurance plans are sold on the state or federal exchanges, such as healthcare.gov. They must offer the 10 essential benefits required by the Affordable Care Act and any additional state requirements. You might be able to get a premium tax credit based on your income when purchasing through government-run exchanges.
Off-Exchange Private Health Insurance
Off-exchange private health insurance plans are sold directly by the private health insurance company, a privately run health insurance marketplace, or an insurance broker. They must offer the 10 essential benefits required by the ACA; however, you're not eligible for a tax credit or subsidy through off-exchange plans. Many off-exchange private health insurance plans offer more flexibility and potentially lower pricing than on-exchange plans. An insurance broker can help you navigate the private insurance options available to you so you can get the best price and plan possible.
Short-term Health Insurance
Short-term health insurance is generally intended as temporary gap coverage for periods of time when you don't have insurance. Short-term health insurance plans aren't required to cover the 10 essential items needed by the Affordable Care Act, and coverage is often limited. It can still be a good option while you're waiting for your current private health insurance plan to kick in, shopping around for new coverage, or waiting for the probationary period to end with a new employer before your group benefits go into effect.
TriTerm Medical Insurance
TriTerm medical insurance is a shorter duration plan that provides close to three years of health insurance coverage. Benefits cover items such as doctor office visits, preventive care, and prescription drugs.
What Are the Different Types and Tiers of Private Health Insurance Plans?
There are several different types of private health insurance available to you. Each option offered on a government exchange site also provides tiers or coverage levels from which to choose.
Private Health Insurance Types
The four primary types of private health insurance are:
Health Maintenance Organizations (HMOs)
Preferred Provider Organizations (PPOs)
Point of Service (POS)
Exclusive Provider Organizations (EPOs)
Health Maintenance Organization (HMO)
An HMO offers the least amount of flexibility. You select a primary care physician (PCP) with an HMO, and you'll need a referral from him or her to see a specialist. No out-of-network medical costs are covered under an HMO. HMOs are usually the least expensive option when compared to PPOs.
Preferred Provider Organization (PPO)
A PPO has the most flexibility compared to other plans. It allows you to choose whatever doctor you would like to go to, including specialists, without a referral. They typically cover out-of-network medical costs, as well as in-network costs. Out-of-network medical expenses are covered at a lower percentage than in-network costs.
Point of Service (POS)
A POS is a cross between an HMO and PPO. You'll select a primary care physician who will need to refer you to HMO specialists. You'll also have the option to see out-of-network physicians (at a higher cost than in-network). Premiums for POSs are less than a PPO and more than an HMO.
Exclusive Provider Organization (EPO)
An EPO is also a hybrid between an HMO and PPO. You have the option to see a specialist without a referral; however, no out-of-network costs are covered. Premiums for EPOs are less than a PPO and more than an HMO.
Private Health Insurance Tiers
There are four tier options for private health insurance sold on government exchanges:
Bronze: The insurer covers 60% of costs and the consumer covers 40%.
Silver: The insurer covers 70% of costs and the consumer covers 30%.
Gold: The insurer covers 80% of costs and the consumer covers 20%.
Platinum: The insurer covers 90% of costs and the consumer covers 10%.
What Does Private Health Insurance Cover?
There are 10 essential health benefits defined by the Affordable Care Act that insurance providers must cover and make available to consumers. The 10 essential benefit categories include:
Emergency services
Pregnancy, maternity, and newborn services
Ambulatory patient services (outpatient care that you might receive prior to being admitted to a hospital)
Mental health and substance use disorder benefits
Laboratory services
Rehabilitative and habilitative devices and services (treatments to help people recover or regain mental and physical skills following a disability, injury or chronic condition onset)
Pediatric services, including children's dental and vision coverage
Preventative, wellness, and chronic disease management services
Hospitalization for overnight stays, surgery, and other treatments
Prescription drugs
There are 21 services for adults that fall under the no-cost preventive care treatment requirements of the Affordable Care Act. Some of those services include:
Blood pressure screening
Depression screening
Diet counseling
Type 2 diabetes screening
Immunization vaccines
Falls prevention for adults 65 and older
Hepatitis B & C screening
Lung cancer screening
HIV screening
Obesity screening and counseling
Sexually transmitted infection (STI) prevention counseling
Tobacco use screening and cessation interventions
Aspirin use to prevent cardiovascular disease
Cholesterol screening
Statin preventive medication for high-risk individuals between the ages of 40 and 75
There are additional preventative care services for women and children. Durable medical equipment (DME) is not a required covered benefit, so it's beneficial to find an insurance plan covering such items when needed. DMEs include things like ventilators and wheelchairs, which can be costly when paid for out of pocket.
How Can I Enroll in Private Health Insurance?
If you need private health insurance, you can shop for an off-exchange plan at any time. There is an open enrollment period for the government on exchange health plans, which typically falls close to the end of the year. If you do not enroll during the open enrollment period, unless you have a qualifying event, you'll have to wait until the next open enrollment period to enroll. A qualifying event, such as the loss of your current health insurance plan or the birth of a baby, provides you with a special enrollment period window. When working with an insurance broker, you'll be able to discuss your specific circumstances to determine the best private health insurance options available for you, as well as when you'll need to enroll for such plans.
KBI Is Here to Help You Secure Private Health Insurance
KBI's team of expert brokers work with you to identify the type of insurance to meet your needs best. We work with numerous insurance companies to bring you the best possible private health insurance plan and pricing available so you can rest easy with the knowledge that you and your family are covered.
Contact us today by submitting our online contact form or calling us at 408.366.8880. We look forward to working with you!
By Chris Freitas