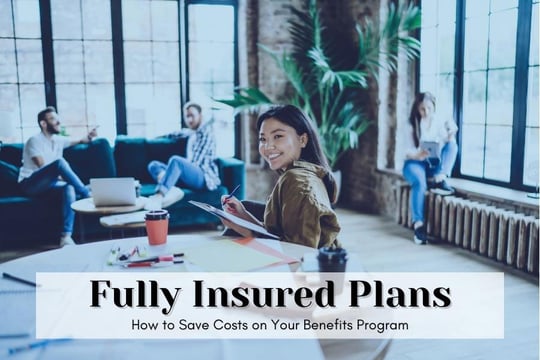 Once upon a time, perhaps a decade or so ago, benefits were a somewhat static monolith for businesses. Organizations instructed their HR teams and benefits managers to find the best health insurance plan for their employees across the board.
The options have grown leaps and bounds for employers to offer a spectrum of health insurance opportunities for their valued employees.
In 2019, the Society for Human Resource Management (SHRM) noted some of the latest strategies used by employers to improve employee health benefits and create a happier and more optimistic workplace.
Our KBI team maintains our purpose to mine the health benefits industry to discover any additional ways for you to save money for your business and employees. With that, we are launching our first of five cost-savings pieces in our cost-optimization series with this post.
We look forward to providing you with insights about fully insured plans and learning about areas where you can optimize a fully insured model and much more.
Let's kick off our series together. Keep reading to learn more about fully insured plans and strategies to save money and keep everyone covered and satisfied.
What Is a Fully Insured Health Benefits Model?
A fully insured health benefits plan is the most conventional health plan model provided through employers. This traditional health insurance model relies on a third-party insurance carrier to assume the financial risk and pay for members' claims in exchange for the premiums paid in advance.
In fully insured agreements, employers pay the premium for each year, which they work with the carrier to determine at the beginning of each year. The primary factors that go into the premium pricing include the number of members enrolled in the plan, plus a spouse or any dependents listed on their plans. In the end, all the premiums are added together to determine the covered group's total premium. The total figure is the amount that the covered organization needs to send to the insurance company each month, quarter, half-year, or year, depending on the agreed-upon terms. Most employers expect employees to share in the cost and usually deduct an amount from each or every other paycheck that the company and each employee agree to.
Plans can change throughout the year, depending on when employees resign or come on board, altering the group number and the plan's cost.
Otherwise, the health insurance carrier pays the medical claims, according to the policy agreement.
What Are the Responsibilities of the Employer and Employee Under a Fully Insured Health Plan Model?
Everyone has their respective responsibilities in any insurance plan. Here are a few things an employer must do to satisfy their responsibilities when implementing a fully insured plan:
Track the number of employees in the plan and make adjustments accordingly when employees enter or leave the organization.
Seek the best health benefits plans available as opportunities arise to ensure getting the best premium rates to enjoy and pass savings to employees.
Employees also have their share of duties when engaging in an employer-sponsored health insurance plan, including:
Understand and agree to the plan that is right for them and their families before signing up for the group policy.
Pay for premiums, whether drawn from their paychecks or paid outright, and for deductibles and co-pays for health services covered under their fully-insured policy.
How Can Your Organization Benefit From a Fully Insured Model?
The fully-insured health plan model has worked for employers and employees for several decades. It still has its place in many of today's businesses. If you are a small business searching for the right type of plan, you might wonder if and how your organization can benefit from this model.
Your organization can certainly benefit from a fully insured model. Here are a few ways it can:
Your rates are more consistent in this model, meaning you face fewer costs variances from month to month. Essentially, once you pay your premium, you don't need to worry.
The insurance provider manages all claims, eliminating the administrative duties and expenses for your business.
The insurance company assumes all the risk, taking the pressure off your benefits team.
It is predictable and safe for employers and employees.
You enjoy reduced risk as you set a premium price, pay for it, and count on your carrier to fulfill their obligations.
There Are Also Some Downsides to a Fully Insured Model
As noted earlier, employers have sought new solutions in health plans for the past few decades, trying to find something that fits their organization and employees. They also want to save the most money for themselves and their employees without sacrificing high-quality and reliable health services.
Here are some disadvantages to using a fully insured model:
Convenience often comes at a cost, which translates to higher premiums for a fully insured plan.
Employers' HR teams must return to the negotiation process with insurers each year.
It's often challenging for employers to communicate coverage benefits to employees effectively.
Employers' tax burdens are often higher than in other plan types.
Fully insured plans on their own are largely inflexible by design, leaving employers little room to make adjustments.
You Can Optimize a Fully Insured Model
You can modernize and optimize your fully insured health plan with a few parameters you set before negotiating your employee's health coverage with an insurance carrier. Here are a few ways you might consider revamping your fully insured model.
What Are the Main Alternatives to a Fully Insured Model?
As noted earlier, businesses continually search for ways to save money while keeping employees insured with high-quality options that don't break their budgets either. There are now three or four generations actively engaged in the workforce. Each generation, obviously at different stages in life, has its own respective life and health concerns.
With all that in mind, it's essential for the industry to create options for a rapidly evolving workforce. Here are a few of those fully insured model alternatives that our KBI team will explore more in this blog post series.
Partially Self-Funded
In a partially self-funded model, you work to create a group healthcare option, you take on more financial responsibility for your business's health insurance. Also known as partial self-insurance, partial self-funded options offer you an alternative option brimming with savings that also doesn't take you or your employees too far out of your comfort zone and into a greater risk landscape beyond a fully insured model.
Level-Funded
A level-funded health insurance plan is also known as a partially self-funded plan. Such plans combine cost savings and customization aspects of self-funding with a more traditional and predictable dynamic associated with a fully insured model to fuse the best of both worlds and minimize the worst.
In a level-funded plan, the employer pays a consistent fee each month, making it a form of self-insurance, but employers still sign contracts with insurance companies. However, employers assume the risk in level-funded plans.
Self-Funded
Self-funded insurance models require employers to assume the financial risk for offering and providing health benefits to employees. Self-funded plans allow employers to tailor benefits to best suit employees.
If you select this type of plan, you'll look at your organization's demographics and decide which benefits your employees would utilize most to cut unnecessary benefits to save money and get the most out of your plan.
Captives
Captive insurance plans are those wherein the insured members wholly own the health plan. The purpose of this type of structure is to offer insurance for risks taken on by the captive insurance company's owners while allowing insureds to benefit from the captive insurer's underwriting profits.
Reference-Based Pricing
Reference-based pricing (RBP) focuses on decreasing employers' spending on employee benefits, as it helps to reduce their claims spend. RBP allows employers to negotiate a lower fee for various billings. This revolutionary concept is gaining traction among employers who want to break away from a traditional, fully insured plan.
How Can These Benefits Programs Save Costs?
These programs offer options and innovations that add savings, flexibility, and a sense of ownership instead of employers always feeling they are at the mercy of insurance carriers, which they might sometimes feel through the fully insured model
Employers need to shave costs more than ever while staying true to the needs of their valued employees.
Here are a few ways these specialized benefits programs and alternative plans save costs without compromise.
Purchasing Less Expensive Plans
Like most employers, you probably want to find less expensive health insurance plans for your organization. With these alternative approaches to healthcare insurance, you can pursue less expensive plans, based on how your employees utilize health insurance.
Reducing Coverage for Employees
With options like self-funding, you have the opportunity to look at your organization's demographics and history of insurance usage to understand and forecast future healthcare needs. In this model, you can use data as a tool to create savings for your business and employees in purchasing only the healthcare plan features you truly need.
Decreasing Contribution Amounts
You can exchange your health plan's current, fully insured design for one with a lower contribution cost for you and your employees. In such cases, employees might pay higher for out-of-pocket expenses, but you all have the option to manage that risk when you break out of fully insured models.
What if a Fully Insured Option Doesn't Work For Your Business?
While a fully insured health plan model offers your organization and employees stability and predictability, you might spend money on plan components your employees will never use. If you don't believe a fully insured health plan model will work for your business, you no longer have to give up and accept it as the status quo.
You deserve more health plan options to protect your business's budget and better serve your employees, and we'll discuss them all in our subsequent posts in this series.
Keep watching for the rest of our posts in this five-part cost-optimization series to find a strategy that works for your company!
Partner with KBI Benefits
To learn more about how we can help you with fully insured plans or anything else, submit your information via our online contact form or call us at 408.366.8880. We look forward to assisting you!
By Chris Freitas
---
Additional Resources: