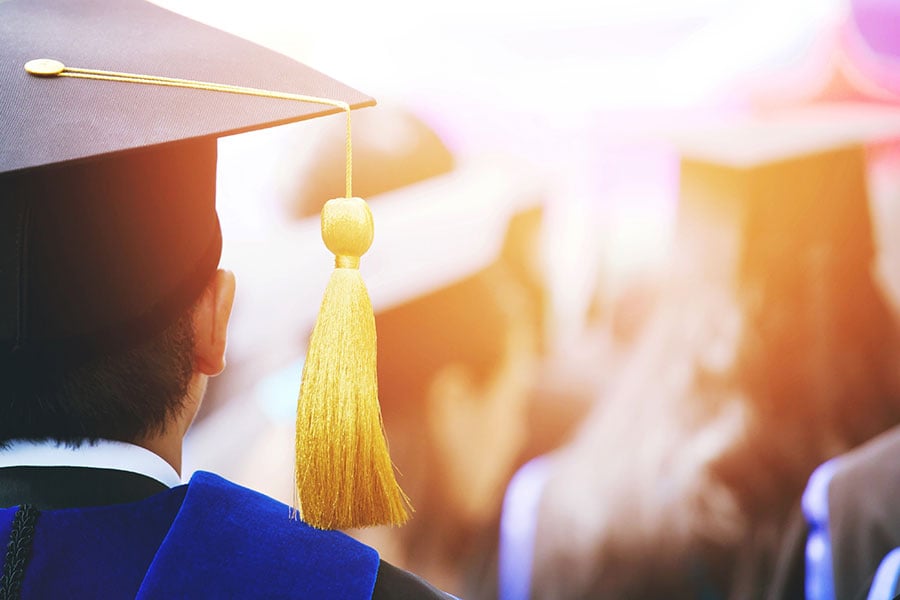 As baby boomers retire, Gen Z college grads are entering the scene. We are now at a time when four generations make up our workforce — Baby Boomers (born approximately 1946–1964), Gen X (born approximately 1965–1980), Gen Y (born approximately 1981–1996), and Gen Z (born approximately 1997–2012).
A study conducted by Ernst & Young on Baby Boomers, Gen X, and Gen Y showed that generally speaking, employees across all generations want similar things from employers, such as recognition, community, and respect. The biggest differences between the values of each generation lie in what makes up an employer's benefits packages. In the content below, we explore the most desired employer benefits for Gen Z college grads.
Though there are similarities in desired benefits between each generation, the ranking of which benefits are the most important changes with the times. For Baby Boomers, retirement and health benefits often rank high, including a 401(k) with company matching and quality medical care. For Gen X employees, financial stability and work-life balance benefits, such as work from home days, paid sick days, and flex schedules, are often considered most important. For Gen Y employees, also referred to as Millennials, work-life balance benefits and professional development perks, such as continuing education and leadership training, typically rank high.
As Gen Z enters the workforce, new studies and surveys are emerging that show, once again, that values vary between generations. The Gen Z graduates who are newly entering the workforce are seeking financial stability over fun, growth within a company, the ability to make an impact, and an overall good benefits package.
top ten Employer Benefits for Gen Z
When it comes to evaluating offers, compensation is definitely a deciding factor for Gen Z candidates. It was ranked the top factor when considering a job opportunity in a LinkedIn survey that polled students and recent college grads on the top 15 value propositions for employees. It was also ranked the third most important factor in the What the Class of 2018 Wants report by Lasalle Network, and 76% of 2019 graduates expect a promotion within one to two years after their start date.
Aside from compensation, some employer benefits that the Gen Z population desires are traditional, such as medical insurance and a 401(k). Others may require a new spin on traditional benefits, such as innovative paid time off options. Some requested benefits are relatively new, such as student loan assistance, and employers have to come up with creative ways to offer such benefits in order to attract Gen Z talent.
Health and Wellness
Health and wellness benefits — especially medical coverage — are ranked as one of the top benefits the Gen Z group looks for when considering job opportunities. In the report by LaSalle Network, medical coverage was one of the top employment benefits desired by Gen Z. A 2018 survey conducted by the American Institute of CPAs showed that more than half of the 547 individuals surveyed who graduated in the last 24 months or were set to graduate within the next 12 months ranked medical coverage as one of the top three workplace benefits. In the National Association of Colleges and Employers (NACE) Class of 2017 Student Survey, more than half of the 21,000 students, including 4,200 graduating seniors, indicated that employer-paid medical insurance was important.
Student Loan Assistance
Financial security is another factor that's important for the Gen Z population, and they're requesting new benefit options from employers as a result. In the American Institute of CPAs survey, student loan forgiveness ranked third as a "top three workplace benefit." In the LaSalle Network report, one in three recent grads indicated that student loan reimbursement was an important benefit when considering employers.
Many organizations are now offering creative ways to offer student loan assistance benefits. For example, some employers are allowing employees to trade paid time off (PTO) days for student loan payments [link to recent KBI post about creating a time-off policy to keep up with the times].
401(k) With Employer Match
A 401(k) with an employer match is also a benefit that the Gen Z population appreciates, though more immediate financial security, such as student loan assistance, generally ranks higher. Recent college grads want to be able to handle their immediate financial responsibilities without stress. A 401(k) with employer matching is still important, however. In the LaSalle Network report, a 401(k) with employer matching ranked fifth as an important employer benefit, and 36% of respondents ranked it as one of the top three workplace benefits in the American Institute of CPAs survey. In the NACE survey, almost 68% of surveyed students indicated that a company-matched 401(k) was important.
Paid Time Off
From Gen X to Gen Z, work-life balance benefits have become more and more important for today's workforce. In the American Institute of CPAs survey, paid time off ranked as the second most important benefit for Gen Z. In the NACE survey, almost 42% ranked two or more weeks of vacation during the first year of employment as important.
A high number of Gen Z employees are requesting even more paid time off from the start, as the standard two weeks is often frowned upon by this generation. Some employers are offering more personal holidays, coming up with creative vacation solutions, and offering unlimited PTO to meet this request in order to attract and retain top Gen Z college grads.
Flex Schedules
Flex schedules are another benefit, as they support the work-life balance of employees. In the LinkedIn survey of college students and recent grads, the work-life balance came in as the second most important value proposition at 56%. In the LaSalle Network report, work-life balance ranked second in importance to the Gen Z population, behind the opportunity for growth, with 43% of respondents ranking flex hours as one of the most important benefits they consider when exploring job opportunities. Glassdoor also reports that flex hours are one of the benefits that give employers an edge over competitors when it comes to hiring Gen Z candidates.
Offering flex schedules with varying start and end times and days off during the week are examples of flex schedules that employers offer. Remote work and telecommuting also fall under the umbrella of flexible schedules, and more and more employers are offering such benefits to attract and retain employees.
Advancement Opportunities
Advancement opportunities are important to most employees, and those that fall in the Gen Z population are no different. When considering a job, Gen Z identifies the opportunity for growth as the number one consideration, per the 2018 LaSalle Network report. This has been true for the past four years. The communication of a career path for growth was the fifth-ranked value proposition of importance in the LinkedIn survey, with 37% of respondents ranking it as important. In the same LinkedIn survey, 33% of respondents also ranked being challenged at work as an important value proposition.
To connect with Gen Z and showcase the possibility of advancement opportunities, organizations can choose to highlight those who've received a promotion on social media and their website. Per the LaSalle Network report, 59% of the Gen Z population is more likely to connect with brands on social media, so it can be used as an opportunity to highlight the possibility of growth within an organization. It's also a good idea to openly discuss career paths and promotion requirements within the organization during the recruiting process, as this is another indicator of advancement possibilities.
Development & Learning Experiences
In the LinkedIn Survey, 28% of recent college grads and students ranked development as important, which is 9% higher than non-students and experienced hires. Considering that learning and development opportunities also support growth and lead to advancement opportunities, employers should emphasize learning and development opportunities that they offer to entice Gen Z candidates.
Tuition Reimbursement
In the NACE Class of 2017 Student Survey, more than half of the individuals surveyed indicated that tuition reimbursement for advanced education was an important employer benefit. Tuition reimbursement is a benefit that several employers have offered for decades, so it's a benefit that's appreciated by members of all generations in the workforce.
Community Outreach Opportunities
The Gen Z population wants to know that they can make a difference in the world. The ability to make an impact was ranked as an important value proposition by 40% of recent college grads and students in the LinkedIn survey. An organization that offers community outreach opportunities and does work that makes a difference in the community is appealing to this group. Sustainable business practices are also important to this generation. Offering a volunteer time-off policy is another way that organizations can highlight their support of community outreach efforts, which can appeal to Gen Z applicants.
Tech Benefits
Being a generation that's been fully immersed in technology and social media, the Gen Z population appreciates tech benefits. Offering smartphones and computers that can be used for personal and business use, for example, can appeal to this generation.
Culture Is Important to Gen Z
Though it's not a benefit per se, it's worth mentioning the significant impact work culture has on the Gen Z population when it comes to choosing employers. By understanding the importance of culture, it can help to position employers to catch the attention of Gen Z candidates. In the LinkedIn survey, 39% of college graduates and students reported culture as an important value proposition. In the 2018 LaSalle Network report, it was the third top factor for Gen Z when evaluating possible employers.
Having grown up in a post-internet era with more platforms than ever to express themselves, members of Gen Z are cultural co-creators. They want to work in a culture where they can collaborate and co-create in a way that benefits the world. In a 2015 study by market research firm Wildness, 80% of respondents, who ranged in age from 12 to 24, felt that finding themselves creatively was important. Twenty-five percent created original video content weekly, and 65% liked to create and share social media content.
This data offers insight not only into the type of work culture Gen Z employees gravitate toward but also how employers can come up with creative ways to reach Gen Z candidates on social media. Employers have the opportunity to create edgy campaigns to catch the eyes of Gen Z candidates through social media channels, and these campaigns can highlight the benefits employers offer that also align with preferences of the Gen Z population.
Gen Z also desires to work in cultures where stress is low, rules aren't overly rigid, they can continually learn, and communication is open.
Designing a Benefits Package That Supports All Generations
Designing a benefits package can be challenging even without the complexities of a diverse demographic that spans generations. Employers are faced with the need to offer benefits to make employees happy across the board, taking into consideration the desires and top benefits requested from each generation.
With the support of an insurance broker, such as KBI Benefits, it's possible to assess the demographics and needs of your current workforce, as well as plan for the needs of the changing demographics with Baby Boomers retiring and Gen Z entering. With the right support, you'll be able to assess your current benefits plan and update or design a benefits package to retain the employees you have, while attracting the talent you need — including those from the Gen Z talent pool.
If you are ready to explore the 401(k) discrimination testing and other programs we offer, contact us today by submitting our online contact form or calling us at 408.366.8880. We look forward to working with you!
By Chris Freitas