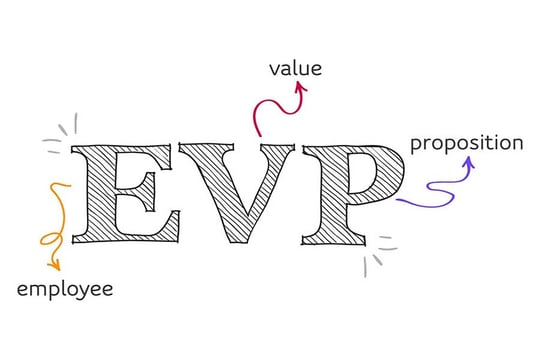 What is an employee value proposition (EVP)? Like a unique value proposition (UVP) — which is the value a company provides to consumers that sets it apart from the competition — an EVP is the value a company provides to employees that sets it apart from other employers. Essentially, an EVP is the perceived value that working at your organization brings to current employees and potential employees.
Why Is an Employee Value Proposition Important?
A well-thought-out, strategic EVP that aligns with an organization's values, mission, culture, and goals helps attract and retain quality candidates and employees who also align with the values, mission, culture, and goals. It sets you apart from your competition and makes current and potential employees want to work for your company. An EVP also helps managers and leaders of the organization clearly define what is important and essential for the organization. It's a reference for employee communications, performance feedback, strategic meetings, and more.
What Items Influence Your Employee Value Proposition?
What makes your organization unique? How do you stand out from your competitors? At the core, what is your organization about? These are the types of questions to explore as you assess or develop your EVP.
An EVP encompasses many variables and includes employee benefits, financial compensation, career development, work culture, type of work, work environment, and employee perks.
Employee Benefits
There is a long list of benefits that employees appreciate and expect to have as a standard part of their employment. Medical, dental, vision, flexible spending accounts or health savings accounts, life insurance, disability insurance, and paid time off are the most common benefits offered. Paid bereavement leave, pet insurance, paid volunteer time, parental leave, and maternity leave are additional benefits that employees appreciate. Does your organization have a comprehensive and competitive benefits platform?
Financial Compensation
Financial compensation is not only about base pay, but also your entire merit and salary increase program. Are your employees satisfied with their base pay, bonuses, annual salary increase process, and promotion eligibility and administration? Is your system fair? Does it promote equality? Are increases timely?
Career Development
Employees want to know that their work matters and that they have opportunities to learn, grow, and be recognized for their efforts within an organization. Do you offer virtual and in-person training programs? Do you have a tuition reimbursement policy? Do you frequently communicate with your employees about their performance and developmental goals? Do you have a recognition program in place? What about a mentor program?
Work Culture
People want to feel good about the company for which they work and with those they work. They also want to understand the goals and vision of the organization. Does your organization offer a positive, encouraging culture? Do employees get along? Is the leadership team visible and accessible? Do employees have a clear understanding of the company's vision and goals? Is there trust between employees and leadership?
Type of Work
The Employee Experience Index by Globoforce's WorkHuman Research Institute and IBM indicates that positive work experience is determined most significantly by the meaningfulness of the employee's work. The employee has to find meaning in what they do; however, as the employer, you can share and explain the "why" behind what they do to more easily identify with and find their meaning.
Work Environment
The work environment covers everything from the office setup and where your employees work to the level of autonomy they have while working. Are workstations customizable to meet the employee's needs? Are all of the essentials provided for the employee to perform optimally? For remote employees, are efforts made to make them feel like part of the team and have the support needed to work remotely?
Employee Perks
Perks can range from career development support and encouragement to flexible scheduling options that support work-life balance and wellness. Perks also include company events, offering breakfast once a week, or leaving fruit in the common areas for employees to treat themselves. Wellness programs are also a popular perk that many employers offer in today's world. What perks would your workforce appreciate?
How Do You Implement an Effective Employee Value Proposition?
You want to create a compelling EVP that you have faith in and trust to achieve a professional, productive, and happy workforce. There are various steps you can take to implement an effective EVP. Clarification, research, flexibility, leadership buy-in, integration, communication, and active management of the EVP are essential.
Clarify Where You Currently Are
Take a deep dive into your current EVP and state of affairs before moving forward to revise it or implement a "new" one. What's working? What isn't working? Are employees aware of your current EVP?
Conduct Research
Ask your current employees what benefits are most important to them. Ask them what they think of your existing benefits platform. From there, you can determine what gaps might exist in your current platform or where you can eliminate benefits that are deemed unimportant.
You also want to research the current internal and external perceptions of your organization. What do people think about your current employee programs? How do people describe your culture? Are the answers to these questions in alignment with what you want to project? Do they align with your current vision, mission, and goals?
You can make changes to your EVP where necessary, depending on the responses you get. You might also realize that you need to communicate better and advertise your EVP proposition if you do offer what others think you don't.
Be Flexible
Be OK with making changes to your current compensation structure and employee benefits program when necessary to boost your EVP. Being competitive in these areas is vital in a competitive job market with a limited candidate pool.
Get Buy-In from Stakeholders
It's necessary to have buy-in for your EVP from your organization's leadership team and stakeholders. If they don't buy-in, support, and promote your EVP, it will be more challenging to get employees and candidates excited about it.
Integrate As Much As Possible
Your EVP should be threaded and promoted throughout all that you do. Integrate it into your internal and external brand, customer service, and existing programs and systems.
Communicate
You can have a rock-solid and best-of-the-best EVP, but if people don't know the ins and outs, it's not doing you much good. Be sure to communicate your EVP internally and externally. Employees need to know all that you offer to take advantage of it and help you promote it fully. Find opportunities to naturally touch on your EVP throughout day-to-day interactions, during meetings, and at company events. Also, promote it in job postings, on your website, and at networking events.
Actively Manage the EVP
Your EVP needs to be regularly discussed and reviewed to ensure that it continually meets the mission, vision, and goals you intended. You also want to connect with employees regularly to ensure that your EVP is still valid and learn what adjustments you might need to make.
How Can Insurance Brokers Support Your EVP?
Employee benefits are one of the top considerations when candidates are considering a job offer. For that reason, employee benefits are often the first thing that employees and candidates look for when reviewing an organization's EVP. Insurance companies and insurance brokers are therefore valuable partners in developing an EVP.
Insurance brokers often have the expertise to not only support an organization in evaluating, designing, and updating the benefits portion of an EVP­ — they also know to support all aspects of an EVP. Insurance brokers have access to market data to determine what's important to employees and candidates as a whole, including compensation, employee perks, company culture, and career development. These elements tie together with employee benefits and need to be considered as part of a whole picture when developing an effective EVP.
KBI Is Here to Support Your EVP
An effective EVP is one of the most valuable HR management tools, especially when it comes to recruiting and retention. The EVP is what captures the essence of your company and attracts and retains top talent. Still, every organization is different, and each should have an EVP that's unique and specific.
At KBI Benefits, we understand how important it is to hire the right candidates from the get-go and retain your current talent. We have years of experience helping organizations create and foster EVPs that meet their needs.
Contact us today by submitting our online contact form or calling us at 408.366.8880. We look forward to working with you!
By Chris Freitas