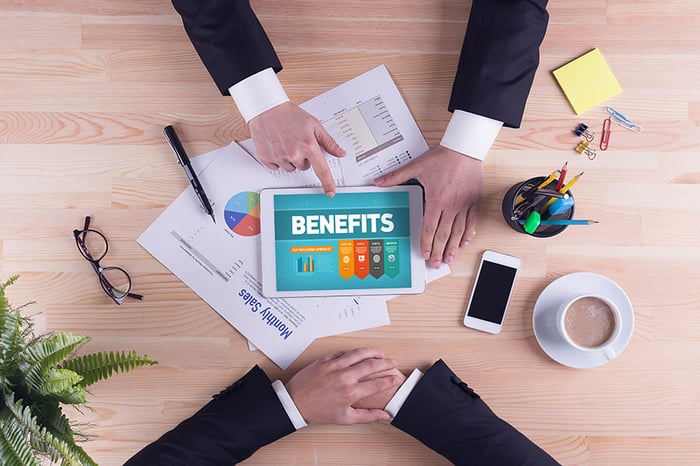 Employee benefits matter. They affect work productivity, employee retention, morale, health, and your ability to attract and hire candidates. In the 2018 Society for Human Resource Management (SHRM) job satisfaction and engagement survey, 92% of employees surveyed indicated that employee benefits were linked to their overall job satisfaction. Almost one-third of the employees noted that their current benefits package was one reason why they would possibly look for another position in the upcoming 12 months.
Indeed, compensation is a key factor when candidates are considering different job offers. Many candidates, however, will take a job with lower pay if it has a comprehensive, high-quality benefits package.
What Is a Comprehensive Benefits Package?
To attract and retain top talent, businesses of all sizes must consider offering the best in comprehensive benefits packages. A comprehensive benefits package generally includes at least the following three components:
Health and wellness benefits (e.g., medical, dental, vision, etc.)
Time off benefits (e.g., vacation, sick leave, etc.)
Financial security benefits (e.g., 401(k), student loan assistance, life insurance, etc.)
Health and Wellness Benefits
Health insurance is typically the first benefit that employees consider when comparing job opportunities. More than 60% of Americans indicated that medical expenses were a stressor for them in a recent Stress in America survey, and medical expenses are the number one cause of bankruptcy in the United States.
And it's not just the older members of the workforce that find medical benefits essential. More than half of the 21,000 students surveyed in the National Association of Colleges and Employers (NACE) Class of 2017 Student Survey stated that employer-paid health insurance was important.
There are several options that an employer might choose to provide health and wellness benefits to its workforce, including group health insurance, flexible spending accounts (FSAs), health savings accounts (HSAs), dental insurance, vision insurance, and mental health benefits.
Traditional Group Health Insurance
Traditional health insurance requires that the patient pay a portion of the cost each time they go to the doctor. The cost can often be pre-determined, based on the type of appointment or procedure. Traditional plans typically include coinsurance, a deductible, and co-pays.
Two common types of traditional plans are co-pay plans and high-deductible health plans (HDHPs). As the cost of healthcare continues to rise, HDHPs, which are less costly to the employer, are becoming more popular. High-deductible plans come with a relatively high deductible — a minimum of $2,700 for a family and $1,350 for an individual — that must be met before the co-pay and coinsurance portion of the plan kicks in for the employee.
Other types of health insurance that organizations sometimes offer in addition to traditional group health insurance include critical illness insurance and catastrophic health insurance.
Flexible Spending Account (FSA)
A flexible spending account (FSA) typically accompanies a traditional co-pay plan. FSAs allow employees to put away pre-tax dollars to pay for qualified medical expenses throughout the year.
Health Savings Account (HSA)
Health Savings Accounts (HSAs) are similar to FSAs and often accompany HDHPs to help offset the high deductible and out-of-pocket costs. With an HSA, Employees can put pre-tax dollars away to pay for qualified medical expenses throughout the year. Employers can also contribute to an employee's HSA. Unlike an FSA, employees never lose the funds contributed to an HSA, which can even be invested once certain plan criteria are met.
Health Reimbursement Account (HRA)
Health Reimbursement Accounts (HRAs) are employer-funded and similar in function to HSAs. There are several HRA accounts that employers can offer, depending on which criteria are met for each. An HRA often accompanies an HDHP to help offset the high deductible.
Dental Insurance
Employees expect a comprehensive benefits plan to include dental insurance. It is a benefit that costs relatively little to the company, but it can save employees thousands of dollars in dental expenses over time.
Vision Insurance
Vision insurance is another benefit that employees have come to expect from employers. It costs very little to both the employer and employee. Employees who need it can save lots of money for eye care, glasses, contacts, and more.
Mental Health Benefits
According to the World Health Organization, anxiety and depression together cost close to $1 trillion in lost productivity around the globe. Anxiety is the sixth-leading cause of disability in the world and lost productivity due to depression costs companies close to $44 billion annually, according to the Center for Workplace for Mental Health. Stats like these highlight the need for mental health support in our organizations.
Many organizations are more openly talking about mental health with their employees. They are also finding ways to offer direct access to mental health professionals. To add to their benefits programs, some organizations are contracting with a local clinic, hiring an in-house mental health professional, or offering tele-counseling services to employees for mental health services and sessions
Time Off Benefits
Paid time off (PTO) is important to employees. With their PTO, they can care for family members, enjoy life, take a much-needed break, and more. To meet the requests of a diverse workforce, many organizations have found creative ways to offer time off. The different types of paid leave employers offer include:
Holidays (many employers offer eight to 10 holidays off per year)
Paid Personal Holidays
Vacation (most employers offer two weeks or more per year)
Bereavement Pay (the standard is up to three days)
Pet Bereavement Time
Jury Duty Pay
Family Leave
Paid Volunteer Time
Parental Leave
Sick Leave
PTO (some employers condense paid time off for vacation, personal reasons, or sick leave into one allotment)
Comp Time
Personal Leave of Absence (this benefit is often unpaid)
Short-Term Disability
When individuals need to take an extended leave to tend to a medical or health condition, they find comfort in having access to short-term disability. Short-term disability is a leave that typically lasts between three and six months, and covers a portion of the employee's pay, depending on how the plan is designed. Some organizations offer the benefit at no charge to employees, while others offer it as an elective benefit that the employee pays for.
Long-Term Disability
Long-term disability continues to pay an employee a portion of earnings if they need to be out for a long period to tend to ongoing health or medical conditions. Depending on the plan design, the pay is typically between 50% and 60% of base pay for a period of two to 10 years. In some instances, benefits might not exhaust until retirement age.
Financial Benefits
Regardless of the generation in today's workforce, financial security and peace of mind are important. Retirement plans, life insurance, student loan forgiveness, and tuition reimbursement are all elements that can complete a comprehensive benefits package.
Retirement Savings Plans
A 401(k) is the most common retirement savings plan offered as part of a comprehensive benefits package today. It is a defined contribution plan where the employee can contribute up to the IRS limit per year, and employers can also contribute to the plan. Typically, employers match up to a certain percentage of the employee contribution, and the employer portions vest at some point in the future. Employers can also choose to contribute discretionary contributions into their employees' 401(k) each year, regardless of whether or not they contribute to their 401(k)s.
Life Insurance
Life insurance up to a certain amount is a standard financial benefit offered by employers. If they wish, the employee can typically purchase additional coverage. Life insurance is particularly important for employees who have families.
Student Loan Support
With younger generations focused on reducing financial stress, the request for new benefits, such as student loan assistance, has surfaced. In a 2018 American Institute of CPAs survey of recent or soon-to-be college graduates, respondents ranked student loan forgiveness as one of the top three workplace benefits that employers could offer.
To meet this growing need, some organizations allow employees to trade PTO time for student loan payments, while others are offering to pay a portion towards student loan payments. Some organizations offer refinancing programs or match 401(k) contributions with student loan repayments, as well.
Tuition Reimbursement
More than 50% of the individuals surveyed in the NACE student survey mentioned earlier indicated that an important employer benefit is tuition reimbursement for advanced education. Tuition reimbursement has been around for decades and has become a common offering as part of a comprehensive benefits package. Employers can pay for a portion of an employee's schooling, up to the annual limit set by the IRS. Tuition reimbursement is a great opportunity for employers to further train and develop their staff, with the added benefit of meeting their employees' desire to learn and grow.
Other Benefits of Importance
Learning and development opportunities and flex schedules are continually ranked as important benefits for employees of all ages in the workforce. It's wise for organizations to take them into consideration when analyzing their benefits package offerings.
Learning and Development
Learning and development are essential to many employees. A LinkedIn survey of recent college grads and students showed that 28% of respondents ranked development as important, and 37% ranked communication of a career path as important. Also, according to Gallup, 87% of millennials and 69% of non-millennials rate career growth and development opportunities as important in a job. Offering in-house and online training programs, mentoring programs, external training program allowances, and shadowing programs are options to incorporate learning and development opportunities as part of a benefits package.
Flex Schedules
Flex schedules and policies are becoming more standard now that more and more employees are requesting them, and technology can readily support remote work. In a 2018 poll by Flex + Strategy Group, 98% of employers offered some kind of broadly defined flexible hours policy. Research from the 2020 Robert Half Salary Guide indicated that 50% of employers offered flex schedules or telecommuting to their workforce. Also, the 2015 SHRM survey showed that 60% of organizations offer some variation of a telecommuting policy, and 54% offer some variation of a flex schedule. Variations of flex schedules include:
Compressed workweeks (e.g., 4X10, 4X9 and ½ day Fridays, etc.)
Flexible start and end times of a typical workday
Telecommuting (e.g., part-time in the office and part-time working from home)
Remote work
How Can You Create a Comprehensive Benefits Package?
There is no denying that attracting and retaining employees is difficult without a comprehensive benefits package that meets their needs and preferences. In a 2015 Q3 Glassdoor Employment Confidence Survey, 80% of respondents stated that they'd prefer benefits or perks over a pay raise.
Some steps to consider in developing or adjusting a benefits package for your employees include:
Determining your goals
Determining your budget
Requesting employee input
Conducting additional need assessments
Considering legal considerations
Designing the plan or making adjustments to your current plan
Developing a communication strategy
Reevaluating and making any necessary changes before launch
Educating employees about benefits during launch, open enrollment, and year-round
Employing periodic assessments
Working with a benefits brokerage firm from start to finish and beyond
It takes a lot of work to develop a comprehensive benefits package. Fortunately, organizations don't need to go it alone. Benefits brokers like KBI are here to help.
Create Your Comprehensive Benefits Package with KBI Benefits
We appreciate that you value taking care of your employees' health and well-being, and we are here to help you do it. Our team of professionals at KBI Benefits will walk you through each step of the process, from evaluating where you currently stand with your benefits package to where you want to go and then updating or designing a benefits platform that works for your organization and your employees. We will walk you through the necessary assessments, legal considerations, budget concerns, and communication strategies to launch. From there, we will work with you to periodically assess how the benefits package is working for you and address any necessary changes for the future.
If you are ready to explore your health insurance options, contact us today by submitting our online contact form or calling us at 408.366.8880. We look forward to working with you!
By Chris Freitas