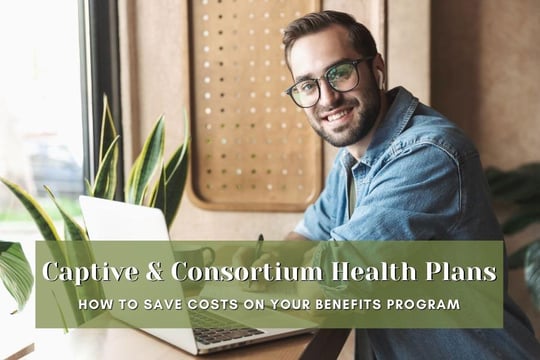 Year after year, you watch the cost of your company's group health insurance continue to rise. According to the Kaiser Family Foundation, the average single and family premiums increased by 4% in 2020. Many employers searching for unconventional ways to offset costs are now considering alternative methods to funding their plans. Captive and consortium health plans offer two possible options of self-funding that can help contain costs and lower your overall risk. If you want to continue offering high-quality benefits and enjoy the advantages of a flexible self-funded program, these two options may be worth the consideration.
As we launch this fifth and final post in our Health Plan Cost Optimization series, let's take a look at how captive and consortium health plans work, how they differ, and how they can help you save money on health plan costs.
Why are Captive and Consortium Plans Useful?
In both a captive and consortium plan, a group of employers joins together to manage health care costs. Both plans offer employers the ability to enjoy self-funding without the risks. Essentially, you're distributing the risks and costs among other group members, so the risk of any catastrophic claims is much lower than it would be on a fully self-insured plan.
However, there are distinct differences between the two plans and how they operate, which may influence your decision if you're considering taking this path to self-funded insurance. Here's what you need to know about each plan.
What ARE Captive Health Plans?
In captive health plans, the group members own and operate their own health plan. The purpose is to share risk with other companies of similar size and risk profile. In so doing, you can offer insurance to the owners of the captive insurance company while allowing the insureds the opportunity to benefit from the insurer's underwriting profits.
Below are the main components of a captive health plan:
Self-Funded
A captive health plan is a form of self-funding that enables you to obtain more control and transparency into your health plan benefits. You'll only pay for what employees spend.
Capital Risk Sharing
Each employer agrees to fund claims up to a certain limit, such as $20,000. A captive kicks in and acts as a protective layer against claims that exceed that amount. Essentially, an expensive claims year would be less damaging financially because the risk is shared among all members of the captive. You're also minimizing the risk of fluctuations in fixed costs.
Stop-Loss Insurance
Members typically purchase stop-loss insurance to cover any claims that exceed the amounts in the captive layer. This protects you against catastrophic claims that would be financially devastating for employers that operate fully self-funded insurance programs.
Partial Ownership
The employer members are each considered a part-owner of the captive. Essentially, you become a shareholder in a small insurance company that was formed entirely to provide insurance benefits to the members of the captive. You are the insurer, as well as the insured.
Employer Collateral
This means each of the employer owners provides an upfront capital outlay and pays into a risk pool. The funds in the risk pool can cover claims. The amount each employer contributes is a percentage of the equivalent fully insured premium. Based on the health plan's performance, the employer may receive some or all of the collateral funds back at the end of the year.
Claims Surplus
If unused funds remain at the end of the year, each employer receives a piece of the surplus based on the amount of the premium each contributed. Members could choose to apply the surplus toward large-dollar claims in future years.
Profitable Arrangement
Employers in captive insurance programs can often receive underwriting profits. In effect, businesses receive rewards for facilitating a positive claims experience.
What ARE Consortium Health Plans?
Consortium health plans results when a group of businesses team up to provide insurance coverage. By joining together to provide coverage, you can save on administrative costs, which are spread out among the organizations, and obtain better discounts from the health plan.
These are the key components of a consortium health plan:
Self-Funded
As a self-funded plan, you're able to enjoy more control over the benefits plan design and its components. Other benefits include lower costs and more flexibility.
Surplus Claims
Each employer in the group may receive surplus funds from unutilized funds at the end of the year. Each member controls their own surplus funds.
Individual Benefit Plan Package and Design
Even though the employers are part of a large purchasing group, they are still able to customize their own benefits plan structure and oversee billing, the renewal process, and claim utilization. Each employer also controls its own employee contributions and rates.
Greater Purchasing Power
As a member of a consortium, you'll be able to qualify for volume discounts and wholesale prices. You'll also have greater purchasing power for items such as stop-loss insurance and administrative services.
Non-Ownership
Unlike a captive arrangement, consortium members are not considered owners of the group. Each member of the consortium controls their own company-specific benefits plan.
No Collateral Required
As a member of the consortium, you are not required to pay any upfront funds to become a part of the group.
Shared Risk
Unlike a fully self-insured plan where the employer takes on the risk entirely alone, the risk in a consortium health plan is shared among the other companies in the group. Because the risk is carved up among the consortium members, an expensive claims year is less impactful than it would be for just one organization.
How Does A Captive or Consortium Health Plan Save Money?
While there are key differences between captive and consortium health plans, the underlying cost savings are relatively similar. Both plans can reduce costs by up to 25%-40% while improving benefits. While there is a risk of a difficult claims year, the risk is much lower since it is spread among the member organizations, whether you are part of a captive or a consortium arrangement.
Both captive and consortium health plans encourage you to focus on risk management. Since the money for claims will be coming out of the employer's pocket, you're better able to focus on limiting risks along with the other members of the group. You can understand and better manage risks and claims.
As in any self-funded plan, you'll reduce or eliminate your exposure to state and federal premium fees and taxes that come with a fully-funded health insurance arrangement. In doing so, you'll save money and be able to offer a benefits plan that truly works for your employees.
Members of a captive and consortium also enjoy more control and transparency into the benefits plan design. These arrangements allow you to customize a plan that works for the size of your company and your particular employee demographics.
One item to consider is forming a captive insurance company tends to be a more expensive and time-consuming process. Candidates for captive health plans will need to perform feasibility studies, determine domicile state or region, conduct financial projections, and finally prepare and submit the application for an insurance license. And of course, employers have to consider the additional risk involved with becoming a part-owner and submitting collateral.
In comparison, joining a consortium health plan can offer many of the same benefits as a captive without the need to put up collateral or worry about the risks involved in becoming the co-owner of an insurance company.
It all depends on the needs of your particular organization. For some companies, the possibility of earning profits in a captive arrangement is appealing. Other companies might be more interested simply in controlling health care costs and providing high-quality benefits while qualifying for volume discounts – which might make a consortium health plan the better option in that case.
Is A Captive or Consortium Health Plan Right for Our Company?
At KBI Benefits, we are on a mission to help you save money while providing your employees with top-notch benefits. This blog is part of our cost-optimization series designed to help you explore alternative health plan arrangements.
If you're considering captive or consortium health plans to lower your health plan costs while still meeting the needs of your employees, we can help you sort out which option would work best for your organization.
Switching to captive or consortium health plans can also bring up a host of other compliance and legal questions—and rest assured, we stand ready to tackle those, too.
Our team at KBI Benefits will work with you to determine the right plan design. If you decide to join either a captive or consortium, we can assist with the entire process from start to finish, along with helping to educate your employees on the new plan and implementation.
Contact us today using our online contact form or calling us at 408-366-8880 to learn more about how we can guide your company on the road to lower health plan costs and better benefits. We look forward to assisting you!
By Chris Freitas
---
Additional Resources: