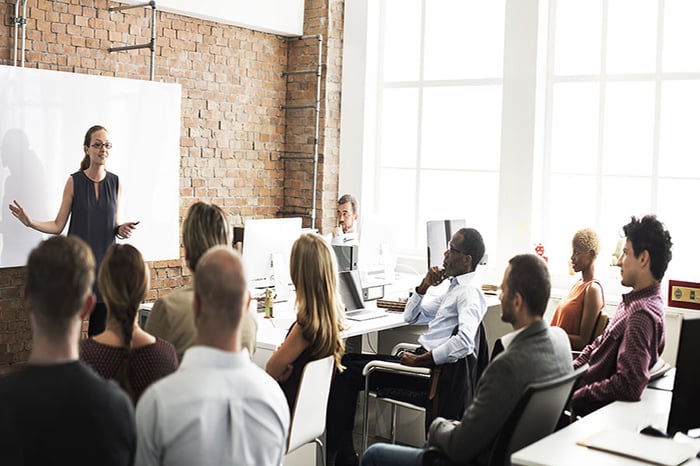 It's no secret that sexual harassment in the workplace was occurring long before the "#MeToo" and "#TimesUp" movements. A ruling on two court cases by the United States Supreme Court in 1998 said that an employer is liable for actionable sexual harassment caused by a supervisor or a higher authority over the employee if appropriate actions were not taken to correct the problem. After the ruling, sexual harassment training became a new norm in the workplace.
Unfortunately, the training hasn't stopped sex discrimination and sexual harassment from happening at work. Per a 2019 Gallup poll, 62% of Americans indicated that sexual harassment is still a problem in the workplace. In the 2016 EEOC (Equal Employment Opportunity Commission) Select Task Force on the Study of Harassment in the Workplace report, 60% of women reported experiencing sexually crude conduct, unwanted attention, sexual coercion, or sexist comments at work, as reported by Inc. Magazine. And in a 2018 Study on Sexual Harassment and Assault of 2,000 people conducted by GFK, 38% of women and 13% of men said they experienced sexual harassment in the workplace. Stats like these can be found from numerous sources.
Sex discrimination and sexual harassment in the workplace is costly in more ways than one. Sexual discrimination can cause stress and anxiety and take an emotional toll on both the individual being harassed and the other employees who witness the harassment. When employees don't feel safe at work, there is a negative impact on employee morale, job satisfaction, and work productivity. Additionally, sexual discrimination claims filed with the EEOC can mean thousands of dollars spent in legal fees and penalties when claims are proven to be legitimate. In 2015, the EEOC collected $165 million from offending firms for workers alleging harassment.
Why Is Sexual Harassment Training for Employees Vital?
First and foremost, employees have the right to feel safe at work. When companies offer effective sexual harassment training, employees see that their employer cares about their well-being. Further, employees can feel more confident that their employer has their back if harassment were to occur.
With proper training, employees will learn how to identify sexual harassment and what to do in the event of sex discrimination or sexual harassment. Also, through training, individuals who didn't realize their behavior was crossing the sexual harassment line can make modifications to their behavior before situations getting out of hand.
Adequate training can help to minimize the concern about the ramifications of reporting violations. Employees can feel empowered to report violations when they experience or witness them. Effective sexual harassment training will provide the protocols and steps to take for employees to report sexual harassment violations.
The training that employees receive at work can also positively impact their lives outside of the workplace. For those who didn't realize what sexual harassment looked like or were too afraid to speak up might finally have the courage to do something about any violation of sexual harassment they experience as a result of their training at work.
Why Is Sexual Harassment Training for Managers Necessary?
Managers are stewards for an organization. They are the leaders that other employees look up to, and sexual harassment prevention starts with them. Managers are likely to learn about sexual harassment violations from employees first, and they must put a stop to harassment when they see it. It's also essential that managers know how to respond and what the protocols are when a claim of harassment is made.
Training shows managers what the various types of harassment violations are and how to best support someone who has been sexually harassed. It also provides them with the training required to confidently respond when faced with a situation that requires them to act quickly and professionally. For example, managers cannot promise complete confidentiality when an employee reports a violation, as the incident might need to be investigated. If an investigation is warranted, the appropriate parties will need to be involved. These are the types of critical items managers need to be trained on during sexual harassment training.
What Does Sexual Harassment Training Mean for Your Business?
Some states, such as New York and California, have specific mandates for sexual harassment training. Organizations need to be clear about what is required by law and meet those expectations to comply. However, whether sexual harassment training is mandated or not, all organizations must require all employees to attend sexual harassment training each year.
When clear expectations are provided to employees and harassment complaints are handled based on a specific set of company standards, it reduces the chances of company lawsuits being brought on by harassed employees. Standardized training sets clear expectations concerning acceptable behaviors at work and also defines the consequences of inappropriate behaviors or actions.
Required training and a sexual harassment policy that employees sign off on also provide legal documentation if it were ever needed in court or for performance discussions at work. If you have to discipline or terminate an employee for sexual harassment misconduct, for example, you would have the documentation that indicates the employee knew what defined inappropriate behavior.
Relevant, Current, and Tailored Sexual Harassment Training Is Important
An online survey in October and November of 2017 by the Association for Talent Development (ATD) showed that nine out of 10 of the organizations had a formalized sexual harassment policy. However, only 71% of the organizations provided sexual harassment training. Further, the survey, which polled 955 human resources, learning, and training professionals about their organizations' sexual harassment prevention training, showed that for close to 50% of the participants, training to prevent sexual harassment had not changed in recent years; furthermore, 70% of respondents expected the training offered to remain the same for the next three years. And though 80% of participants indicated that sexual harassment training was mandatory at their organization, the average amount of time employees spent on the training was only two hours per year.
Sexual harassment training is about the prevention of the problem. It shouldn't be reinforced as a mere reaction to it. For sexual harassment training to be effective, it should be evaluated from year to year to ensure that the content remains relevant, current, comprehensive, and tailored to your organization.
Considerations for Your Organization's Sexual Harassment Training
Sexual harassment training is vital to organizations of all sizes and types. When rolling out training, it's best to communicate the importance of training from the top and align your training with your unique work environment.
Communicate from the Top
The what and how about sexual harassment training is important, but just as important is the who that stands behind it. If the communication about sexual harassment training comes from HR or the vendor providing it, you are inadvertently sending the wrong message. For employees to become vested in the training and to truly take it seriously, the message about its significance should come from the CEO or another prominent leader within the organization. An email, or better yet, a brief video of the CEO sharing the necessity of having a harassment-free work environment and the importance of sexual harassment training can go a long way in getting employees on board.
Executives should also attend sexual harassment training. If they are not there, other employees will likely notice. If executives do not show up for training, the rest of the workforce might question why not.
Give the Message Some Thought
In addition to identifying the right who behind the message, you should also ensure that you're providing an effective message.
Be clear that there will be no retaliation.
The 2016 EEOC study mentioned earlier indicated that 90% of employees who experience harassment do not file a formal complaint, and 75% do not complain to their employer, either. This is likely in part be due to the concern surrounding retaliation. Employees need to know that there will be no retaliation if they report sexual harassment or the suspicion of it.
Share that it's about more than a legal requirement.
If the communication about sexual harassment training speaks to how "the law requires it," then employees might get the impression that the company only offers sexual harassment training because it has to and not because it's the right thing to do to keep employees well and safe.
Clarify that training is for everyone.
Training is not just for victims of sexual harassment and the harassers — it's for everyone. Engage employees with relevant and informational communications before, during, and after training so they don't tune it out.
Tailor Your Training to Your Organization
Workers from all walks of life face sexual harassment at work, from minimum wage workers to doctors to entertainment professionals to baristas at your favorite coffee shop. Many sexual harassment training programs are created for office environments. Those types of programs work great if your employees primarily sit in an office. However, many organizations do not fit the traditional office work environment, nor are those environments where the most sexual harassment complaints originate. Accommodation and food services, retail, and manufacturing environments had the most sexual harassment complaints filed with the EEOC between 2005 and 2015.
For your sexual harassment program to be effective, it needs to be tailored to your workforce. When using a third party, identify a vendor who will work with you to tailor your sexual harassment training to your workforce. If the training you offer does not apply to the work environment of the employees watching it, then they likely will not take the training seriously.
Have a Clear Policy to Align with
The sexual harassment training that you select needs to align with your sexual harassment policy. The policy should address the definition of sexual harassment, examples of inappropriate behavior, and very clear and explicit steps to take to report violations.
Don't Just Focus on Obvious Inappropriate Behaviors
The EEOC defines sexual harassment as "unwelcome sexual advances, requests for sexual favors, and other verbal or physical conduct of a sexual nature." Unwelcome sexual advances and verbal or physical harassment of a sexual nature can often come down to the perception of the receiver.
It's not uncommon for harassers to unintentionally harass others or not be aware that their behavior might be making coworkers uncomfortable. Intentionally groping or pinching someone is a clear inappropriate behavior that's commonly discussed in training. However, it's essential to highlight some not-as-obvious inappropriate behaviors, such as telling someone they look "hot" in their outfit or staring at someone for more than a few seconds.
Highlight What Good Behavior Looks Like
As discussed, sexual harassment training focuses on what you should not be doing and the inappropriate behavior that can be perceived as or is sexual harassment. It's also helpful to highlight what good behavior looks like and what employees should be doing at work to foster a healthy work environment: Be respectful. Talk through your differences to resolve conflict. Give praise to others. Be open to constructive feedback. Communicate respectfully, whether on the phone, by video, in person, or over email. Embrace differences in culture and background.
Provide a Way to Report Anonymously
Some employees are willing and capable of taking the steps necessary to resolve issues with inappropriate behavior at work when it occurs. However, a large number of employees are much more comfortable reporting discrimination and ethical violations to an anonymous hotline.
When possible, it's an excellent idea to provide both an internal reporting process with specific contacts that an employee can go to in conjunction with an anonymous reporting line.
Offer Ongoing Reminders
Yearly, well-designed sexual harassment training is essential. It's also helpful to provide periodic information throughout the year that can serve as reminders, touch on topics that weren't covered extensively in the annual training, or address potentially time-sensitive situations.
How Can You Create a Culture Free from Sex Discrimination and Sexual Harassment?
Offering a sexual harassment training program is an essential step in preventing sexual harassment in the workplace. Employees can apply what they learned and maintain a sense of safety in their day-to-day work environment. However, sexual harassment prevention is more than just a once-a-year training — preventing sexual harassment comes down to a company's culture. The entire leadership team needs to be on board and lead by example for other employees to get on board and follow that example.
enhance your sexual harassment training programs with kbi benefits
KBI Benefit's team of experts has the tools and resources available to support your organization in identifying a sexual harassment training program to fit your needs and meet your state's sexual harassment training requirements. We're here to help you both provide a safe, sexual discrimination-free work environment and mitigate your risk of sexual harassment claims.
If you are ready to explore the HR training programs we offer, contact us today by submitting our online contact form or calling us at 408.366.8880. We look forward to working with you!
By Chris Freitas